Multiple Sclerosis Diet: Doctor Terry Wahls Reverses MS With Diet Alone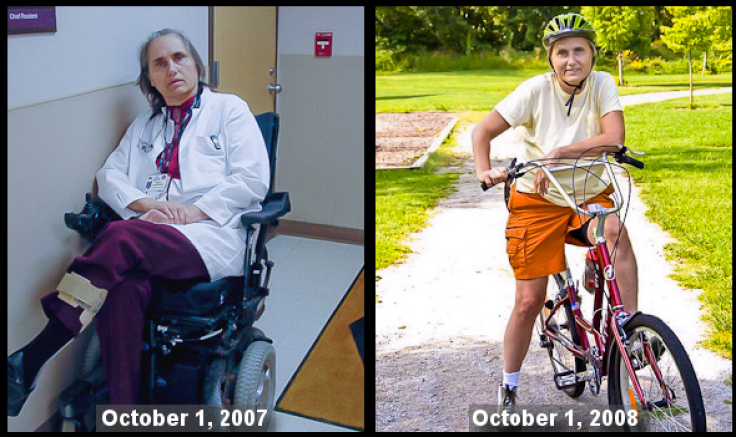 Tingling and numbness in your joints, chronic pain and spasms, and fatigue and weakness are not just indicators of chronic tiredness; they are often the early symptoms of multiple sclerosis (MS). More than 2.1 million people are affected by the disease worldwide, although that number is thought to be even greater because the Centers for Disease Control and Prevention (CDC) does not require physicians in the U.S. to report new cases of MS, says the National Multiple Sclerosis Society. Relapsing-remitting MS — the experience of relapses or episodes of deteriorating neurological function — is the most common form of MS seen in the initial diagnosis of patients. While the majority of cases of MS do not leave patients severely disabled, Dr. Terry Wahls, assistant chief of staff at the Iowa Veterans Affairs Medical Center, MS-stricken, saw herself continue to become severely incapacitated three years after her initial diagnosis in 2000. "I was afraid I was going to become bedridden," she said at the TEDXIowaCity event in November 2011, referring to what she once thought was irreversible MS. Wahls took the natural healing power of food to reverse her irreversible MS within a year, going from riding a tilt-recline wheelchair to competing in an 18-mile bicycle tour with her own version of the paleo diet without prescription drugs.
Read more: Multiple Sclerosis May Be Brought On Earlier And More Severely Due To Lack Of Tob1 Gene Expression
The Wahls Paleo Diet
As a clinical researcher who has published over 60 scientific abstracts, posters, and papers, Wahls is no stranger to clinical trials and research. She turned to PubMed, a free resource developed and updated by the National Center for Biotechnology Information (NCBI) that gives anyone access to primary research reports on biomedical topics. Through exploration, she began to see what supplements were recommended to help protect the mitochondria within brain cells that communicate with parts of the body to function. Instead of taking supplements recommended by researchers to improve the functioning of the mitochondria, Wahls decided to consume the nutrients through solid foods.
For optimal mitochondrial, myelin, and neurotransmitter function, Wahls decided to become what she calls herself a "modern-day hunter-gatherer" and formulate her own version of the paleo diet to get the necessary nutrients for a healthy brain. Unlike the paleo diet, Wahl's diet does not include any servings of grain, as she separated the produce in the original diet into different categories to slow her MS decline.
Read more: Multiple Sclerosis Treatments: How Bone Marrow Transplantation and Tecfidera Prevent Relapses
Three Cups Of Leafy Greens
Green leaves contain vitamins A, C, K, B and minerals that help protect the brain cells in the mitochondria and will also lower the risk of cataracts and macular degeneration in your life. Excellent sources of these vitamins and minerals include kale and parsley.
Three Cups Of Sulfur-Rich Vegetables
Since sulfur compounds help with cellular detoxification and the creation of neurotransmitters, they are seen as the secret weapon against degenerative disease, says Healthtruthrevealed.com. Sulfur-rich vegetables include cabbage, onions, mushrooms, and asparagus.
Three Cups Of Colorful Fruits And Vegetables
Colorful fruits and vegetables are loaded with antioxidants that can help combat oxidative activity in MS damage. Wahls says that these brightly colored foods contain flavonoids, which are polyphenols that can help to remove the toxins in your body, especially in your brain. Foods like berries, oranges, beets, and carrots can help you get the antioxidants needed to keep you healthy.
Omega-3 Fatty Acids
Wahls recommends MS patients to also consume animal-based omega-3s because these lessen disability progression and can lead to fewer relapses. The National Multiple Sclerosis Society suggests salmon, mackerel, herring, and sardines for excellent sources of omega-3 fatty acids.
Grass-Fed Meat And Organ Meats
Grass-fed meat is a preference for Wahls who believes grass-fed meat is healthier because it reduces the risk of consuming meat with diseases that may be hormone-injected. Beef and lamb are popular grass-fed meats consumed in the U.S. because cow and sheep are not fed a diet of grains and supplements to induce fast weight gain, says Americangrassfed.org. Organ meats such as brain, liver, and tongue are an excellent source of vitamins, minerals, and CoQ10 (Coenzyme Q10), said Wahls.
Seaweed
The high amounts of iron, calcium, and fiber found in seaweed help to increase alertness and mental clarity, especially in MS patients. The selenium found in seaweed can also strengthen your bones, eyes, and skin while sharpening your brain through toxin removal, says Thepositivepear.com.
Read more: 366 Marathons In 365 Days Cure Annette Fredskov's MS; Tips To Cope With MS
Wahls told the audience at the TEDxIowaCity event that "we can continue to eat delicious, convenient processed food" but that it will lead to a rapid decline in the American population's health. Although a paleo diet could be costly, the price paid for the food to restore your "health and vitality" will give you a clean bill of health.
To see Terry Wahls's complete presentation on her version of the paleo diet at the TEDxIowaCity event, click here.
Published by Medicaldaily.com