Music Education Can Improve Brain Function, May Close The Gap Between Rich And Poor Academic Performance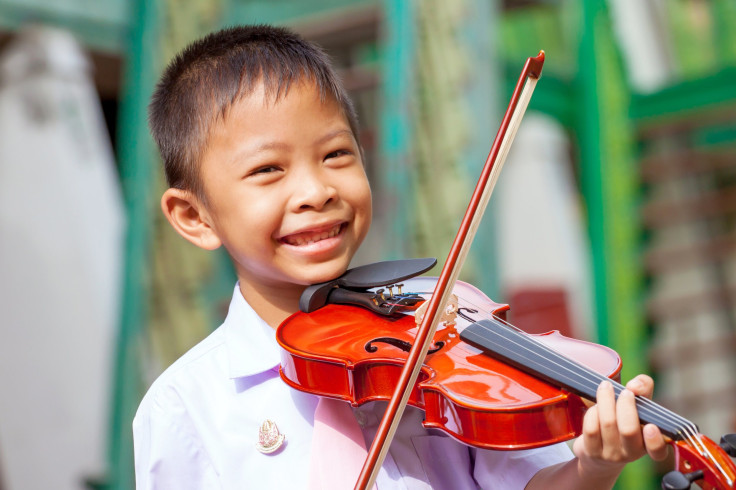 While we are all familiar with the idea that music moves your soul, a recent study has presented evidence of its influence on a tangible part of our bodies: the brain. The study found that music education was able to change the physical makeup of a child's brain, making them better at processing sound, something which may lead to better reading and writing skills.
The study, conducted by researchers from Northwestern University, specifically focused on the effects of music education on at-risk children, according to the recent press release. The researchers teamed up with Harmony Project, a program that provided free music lessons to thousands of disadvantaged children from gang-reduction zones in Los Angeles, and documented the progress of children between the ages of 6 and 9 over two years. Kraus explained to Medical Daily in an email that the children's music education began with the fundamentals of musical notation, rhythm, and reading, advancing to musical instruments after 10 to 12 months. To measure biological changes, the researchers then used a "quick but powerful neural probe," which allowed them to evaluate how the brain processes complex sounds such as speech and music.
Results were in line with the researcher's hypothesis. "We saw an enhancement in how precisely these children's brains distinguished between similar speech sounds. This is an important auditory function that has been linked to language and literacy skills," explained Kraus in her email. These findings demonstrate that "community music programs can literally 'remodel' children's brains in a way that improves sound processing, which could lead to better learning and language skills," Kraus added. To the researchers, these findings are yet further evidence the integral role music education plays in childhood development.
This isn't the first time science has highlighted the physical effect that music can have on a brain. For example, according to Discovery, parts of the brain associated with motor, sensory, and cognitive information have been found to increase in individuals who play a musical instrument. While this effect on the brain is not exactly associated with increased intelligence, the improved communication skills suggested by this most recent study are still a good enough reason to look into music programs available in your local community.
While musical instruction is bound to help any child, Kraus explained to Medical Daily how the results of her study suggest it may be even more important in disadvantaged children because of its ability to give them "the extra "boost" they need." She is referring to the gap between academic achievement of affluent and low-income students, a gap which has been shown to have grown by about 40 percent since the 1960s, The New York Times reported. This opinion is shared by the Harmony Project's founder Margaret Martin, who explained her gratitude in the partnership with Northwestern University.
"Thanks to this finding, sustained music training is now an evidence-based method for closing the achievement gap between poor kids and their more advantaged peers," Martin said. The study is now available for viewing in the Journal of Neuroscience.
Published by Medicaldaily.com