Naked Yoga In NYC: 'When We're Naked, We're All The Same'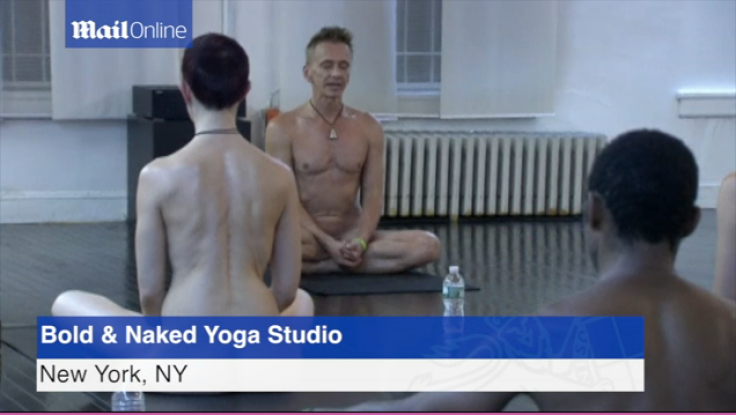 In New York City, you can expect to find any hobby or interest that will suit the needs of almost every single person. So it shouldn't be a surprise that one can find Bold & Naked, a naked yoga studio located in one of Manhattan's most colorful neighborhoods, Chelsea.
"While many equate being naked with sex, this couldn't be further from the truth in a naked yoga class," according to Bold & Naked's website. "It's about being comfortable in your own skin and the amazing confidence that comes with it."
Joschi Schwarz and Monika Werner, co-owners of the studio, adhere to a strict policy protecting the sanctity and the safety of the studio. "The energy in the room is very clear," they said. There is body-to-body touching, however. "Sexual touching and should any contact of sexual nature occur, it will not be tolerated and will result in the offending member being asked to leave," according to the studio.
Naked yoga also known as nagna yoga, is an ancient Indian practice, but was introduced to Western countries in the 1960s. It's meant to be liberating and helpful in building self-esteem, and it is no way meant to be sexual. "IF YOU ARE LOOKING FOR AN ORGASM, YOU ARE IN THE WRONG PLACE," the website emphatically writes. The owners adhere to a strict no-nonsense policy.
Bold & Naked studio offers, male, female and, co-ed naked vinyasa courses. The classes are $25 per class, which is pretty standard for a NYC studio. They also offer fully clothed classes, as well as teaching classes in "yogassage."
"There are a lot of things that separate us in a normal yoga class, like what brand of yoga clothing you're wearing or how you look when you're wearing it," one attendee told the Daily Mail. "But when we're naked, it's like we're all the same."
Published by Medicaldaily.com