Nancy Pelosi Calls Late-Term Abortions 'Sacred Ground,' Triggering Mass Response From Advocates And Opponents Alike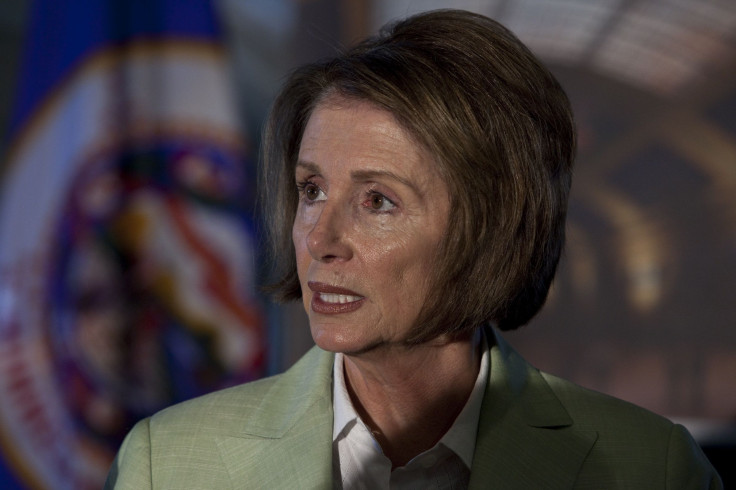 House minority leader Nancy Pelosi began her weekly press conference Thursday by criticizing the Republican-sponsored bill that bans abortions for women pregnant at 20 weeks or later, regardless of whether pregnancy was due to rape or incest. Reporter John McCormack from the Weekly Standard asked Pelosi questions that began an emotional debate.
McCormack created tension when he asked, "What is the moral difference between what Dr. Gosnell did to a baby born alive at 23 weeks and aborting her moments before birth?," referring to the abortions and infanticides performed by Kermit Gosnell, a Philadelphia doctor found guilty last month of first-degree murder for cutting the spinal cords of three babies born alive in an abortion clinic, which led to their eventual death.
The conservative news reporter antagonized Pelosi and attempted to bait her into continuing the conversation. "You're probably enjoying that question a lot. I can see you savoring it," Pelosi said in response.
Pro-life and pro-choice advocates are up in arms about the new bill that was passed on Wednesday. The law was divided by parties — republicans supporting it, and democrats opposing it.
The heated discussion came the day after Republican Trent Franks, creator of the 20-week abortion proposal called Pain Capable Unborn Child Protection Act, said cases of rape and incest in pregnancy were low enough to not make an exception for them in the bill. He also claimed abortions just like the ones performed by Gosnell happened hundreds of times every day for the past 40 years.
According to the Guttmacher Institute, only two percent of women age 15 to 44 have an abortion each year. It is difficult to claim late abortions, such as the ones performed by Gosnell, occur hundreds of times every day when in fact, 88 percent of abortions occur in the first 12 weeks of pregnancy, and 1.5 percent of abortions occur after 21 weeks. Almost half of all pregnancies are unintentional, and four out of 10 of those pregnancies are terminated.
"For them to decide to disrespect a judgment a woman makes about her reproductive health is reprehensible," Pelosi said, pointing out that all of the individuals who voted for the bill were men.
The committee was also shown graphic pictures of babies killed by Douglas Karpen, a similar situation to the Gosnell case. The bill, which passed on a 20-12 vote, is expected to receive debate on the House floor followed by a vote next week.
Pelosi, a mother of five, eventually dismissed the reporter because of his obvious agenda to stir unwarranted provocative conversation, but not before saying, "As a practicing and respectful Catholic, this is sacred ground to me when we talk about this," referring to Gosnell. "This shouldn't have anything to do with politics and that's where you're taking it and I'm not going there."
Pelosi has a history of respecting a woman's decision for abortion, from voting no on banning federal health coverage that includes abortion to voting no on banning minors from traveling out of state to have an abortion.
Many responses were incited from the debate, coming from different sectors of American opinion, especially pro-life advocates.
"As a mother and practicing Catholic, I have a modest proposal for Mrs. Pelosi: that she consider the Church's teaching which says each life is sacred and reject the idea that each abortion is," President of the Pro-life Susan B. Anthony List, Majorie Dannenfelser, said in a statement response to Pelosi's comment.
Pelosi's video arguing with reporter McCormack has gone viral, with varying degrees of opinions in the comment section.
"Just another day in the life of the Republican Congress," Pelosi said.
Published by Medicaldaily.com