Nate Burleson, Lions Receiver, Breaks Arm In Single-Car Accident Due To Pizza Box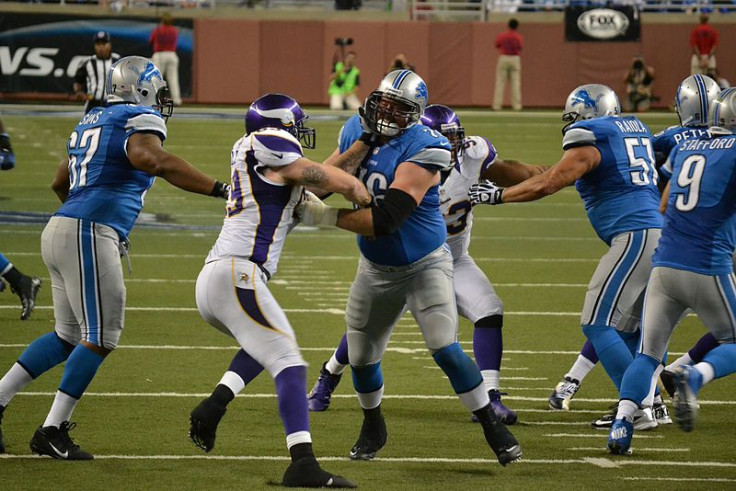 Nate Burleson, Detriot Lions' wide receiver, was trying to adjust a falling pizza box in the back of his black 2009 GMC Yukon, and unfortunately shortened his season with the Lions.
The 32-year-old National Football League (NFL) player broke his left arm in a single-car accident driving down Interstate 696 in Farmington Hills, Mich., around 2:25 a.m. Tuesday, ESPN reports. Burleson was reportedly watching Monday Night Football before he crashed his Yukon vehicle with two whole pizzas on his way home.
"It was actually a whole pizza," said Michigan State Police Lieutenant Shaw to the Detroit Free Press. "He had purchased two whole pizzas, and one was sitting on top of the other one, and I guess when he was driving one of them was slipping off, and he was reaching over to push it back onto the seat and overcorrected and hit the median wall."
Police confirmed that Burleson was wearing a seatbelt when he crashed. The wide receiver was transported by emergency medical responders to a local hospital, as police reported that alcohol was not a factor. He was not submitted to a drug screening since Burleson did not show any signs of intoxication.
The Lions receiver is scheduled to undergo arm surgery on Wednesday by the same surgeon who repaired the player's knee last year. Lions coach Jim Schwartz has no intention of putting the wide receiver on the season-ending injured list. "He'll be missed," said Schwartz, reports ESPN. "But he'll be back and he won't miss a beat."
"Anytime you're in a highway accident, there's potential for worse than broken bones," Schwartz continued. "And I think he was fortunate in this case and we were fortunate in this case that it wasn't more than that."
The Lions cannot use their short-term injury reserve designation on their No. 2 receiver because the team has already used it on Montell Owens, reserve running back and special teams contributor. If the Lions decide to not end Burleson's season, they will have to keep him on their 53-man roster until he's healthy, according to the Detroit Free Press.
Schwartz said the player's spirits were "understandably low" when the two spoke Tuesday morning.
"Obviously Nate had a great game last game and has been a big part of our team ever since he's been here," said Matthew Stafford, Lions quarterback, to ESPN. "Not only with his play on the field but just his leadership. But we won't miss that. He'll be around. We understand that. It's unfortunate, but next guy up. That's the way we've always preached things around here."
Published by Medicaldaily.com