National Cancer Survivors Day 2015 Emphasizes The Needs And Aftercare Of All Patients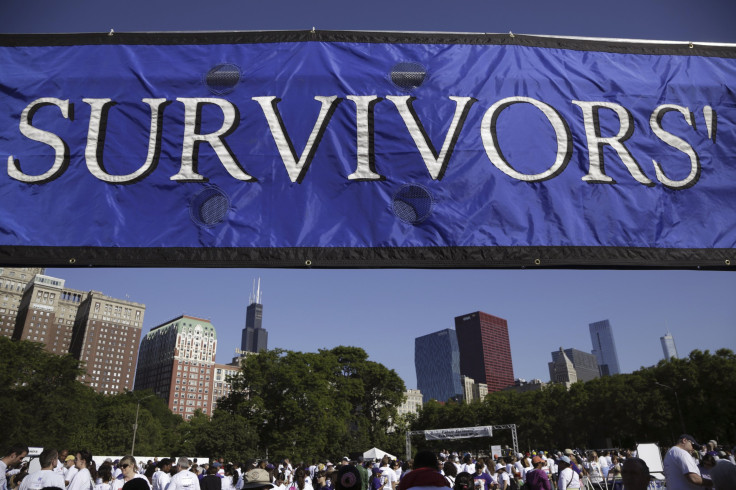 Currently more than 14 million Americans are considered cancer survivors. National Cancer Survivors Day, celebrated this Sunday, June 7, is intended to improve their lives by raising awareness of the ongoing challenges faced by those diagnosed with the disease. However, this year the organizers of the nationwide event are choosing to dwell on the positives, while emphasizing the needs of all patients.
"Cancer is no longer the automatic death sentence that it was a few decades ago," Laura Shipp, a spokesperson for the foundation sponsoring the recognition day, stated in a press release. "The reality is that, among United States adults, the five-year relative survival rate for all cancers combined is now approximately 68 percent."
Who is a survivor? Anyone living with a history of cancer, stretching from the moment of diagnosis to life's conclusion. Survivorship, then, includes a multitude of issues surrounding both the disease and its cure. Patients and survivors often deal with fear and anxiety, nutritional challenges, treatment side effects, physical disability, and financial burdens. Whether or not they live natural lifespan, survivors may face chronic illness or other difficulties, including so-called late effects resulting from treatment.
Stage 4 Challenges
Many cancer centers across the country begin the discussion of survivorship with patients "from the very point of diagnosis," Carol J Bush, nurse navigator of the Midwest Cancer Alliance and University of Kansas Cancer Center, told Medical Daily. Survivorship not only means a whole team of healthcare professionals are "helping to assess the continuing needs of the patients," but it also includes patients helping to design "their journey forward."
Cancer experiences are as varied as the patients themselves. With better screening, many people are diagnosed at earlier stages, resulting in better outcomes and a greater likelihood of being cured. As a result, some people sail through treatment, experiencing few troubles, and find themselves cured. However, others, especially those diagnosed with later stage cancers, may struggle with their health.
"What I've learned from patients is folks diagnosed with late stage cancers, stage 4, often these folks don't think they have a voice," Bush told Medical Daily. "We need to listen to and meet the needs of patients with late stage cancers just as we do patients in the curative realm."
It begins with the simple matter of what they are called. "They don't always want to be referred to as survivors," Bush said, with some groups preferring to be called strivers or metavivors, a portmanteau of metastatic and survivor. She notes that fear is stronger in this group of patients, and though they often create solid networks and great support amongst themselves, the isolation can be terrible for some people When unlikely progress is made, for instance, when stage 4 patients receive unexpected good news of long remission or even cure, they often feel survivor guilt.
"That's a particular emotional need of that population," Bush said. National Cancer Survivors Day, then, may be one way for these exceptional patients to reunite with others on their journey back to health.
Whether survivor or friend, family member or colleague, come celebrate the day that represents many things to many people: celebration for those who survived; inspiration for those recently diagnosed; support for families and friends; and outreach to communities across the country. Click here to learn of events taking place near you.
Published by Medicaldaily.com