National Cheesecake Day 2014: 4 Cheesecake Recipes Under 200 Calories To Satisfy Every Sweet Tooth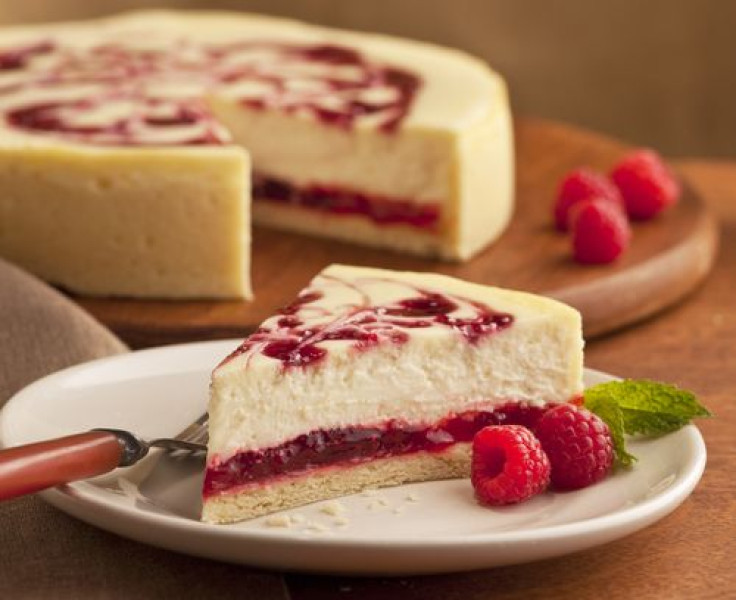 A national holiday for food is a cause for celebration for Americans across the country, especially today on National Cheesecake Day. The arrival of the sweet and decadent holiday means many of us will have a fork and a plate handy to devour the cool and creamy treat. But partaking in this holiday doesn't mean we have to chow down more than half of our caloric intake (e.g., The Cheesecake Factory's Reese's Peanut Butter Chocolate Cake Cheesecake: 1,500 calories), we can have our cheesecake and eat it, too, without sacrificing our waistline.
Whether you prefer your cheesecake loaded with berries, cherries, chocolate, or even ancho chili, these four unique takes on cheesecake will allow you to shamelessly indulge in its rich and creamy texture in a healthy way. These recipes aim to cater to every sweet tooth just under 200 calories each. Plus, they won't make you feel guilty after every bite, or about going for seconds.
1. Ancho Chili and Chocolate Goat Cheesecake Popsicles (75 Calories)
Cheesecake doesn't only come in the form of a pie or slice. This dessert stable can be devoured in popsicle form. With a spicy kick of ancho chili powder, cocoa, and goat cheese, this low-fat treat comes at approximately 75 calories.
Ingredients:
4 ounces low-fat goat cheese, softened
1/3 cup sugar
1/2 teaspoon vanilla extract
1/2 teaspoon cocoa powder
2 eggs, separated
1 tablespoon flour
1/4 teaspoon ancho chili powder
Directions:
Preheat oven to 350 degrees. Combine goat cheese, sugar, and vanilla and mix until smooth. Add egg yolks two at a time. Fold in flour, cocoa powder, and ancho chile. Whip egg whites until soft peaks form. Gently fold into mixture. Spread into buttered and sugared parchment-lined baking pan. Bake for 20 to 25 minutes. Cool. Remove from pan by picking up parchment. Use a 1-inch cookie cutter to make individual circles and insert skewers to create a "lollipop."
Makes about eight servings.
Recipe courtesy of Shape.com
2. Mini Cheesecake (107 Calories)
If a regular cheesecake may be heavy on your waistline, this skinny version of a cheesecake may be the treat for you. The cheesecake is baked in a cupcake tin so it automatically provides you with built-in portion control, so you don't overdo it with the fat and calories. This recipe is super rich and creamy at just 107 calories.
Ingredients:
For the crust:
1/2 cup finely crushed graham crackers (about 7 graham crackers)
2 tablespoons butter, melted
For the filling:
8 ounces low-fat cream cheese
1/4 cup low-fat ricotta cheese
1/4 cup sugar
1/2 teaspoon vanilla extract
1 orange, zested
1 egg
Directions:
1. Preheat the oven to 350 degrees, and line a muffin tin with liners.
2. Combine crushed graham crackers and melted butter in a small bowl.
3. Tightly pack 1 teaspoon of the graham cracker mixture into the bottom of each muffin cup, and press down firmly (this will be the crust).
4. Combine the ricotta cheese, cream cheese, sugar, orange zest, and egg in a food processor, and blend until smooth. (If you don't have a food processor, you can do this in a large mixing bowl with a hand mixer.)
5. Put about 2 tablespoons of the cheesecake mixture in each muffin cup (it should fill the cupcake liners about halfway).
6. Bake for 25 minutes, or until the center is almost set (you can put a toothpick in the center of one mini cheesecake and see if it comes out almost completely clean to test this).
7. Cool to room temperature, about 30 minutes. Refrigerate at least 1 hour before serving.
8. Garnish with crushed graham crackers (about 1/4 tsp to 1/2 tsp per mini cheesecake).
Makes 12 servings.
Recipe courtesy of Womenshealthmag.com.
3. Skinny Chocolate Chip Cheesecake Bars (128 Calories)
Cheesecakes can be consumed as easily as a cereal bar, no fork or plate necessary. This skinny recipe contains some light cream cheese, and Greek yogurt that gives it a creamy texture and flavor. With just 1 teaspoon of sugar per serving, and at only 128 calories, this cheesecake recipe give you the taste of a chocolate cheesecake without the extra calories.
Ingredients:
5 sheets low-fat Graham crackers
2 tablespoon butter
8 ounces light cream cheese
3/4 cup nonfat plain Greek yogurt
1/4 cup granulated sugar
2 tablespoon flour
2 egg whites
lemon juice
vanilla extract
1/2 cup mini chocolate chips
Directions:
The bars only take 25 minutes in the oven. But then you have to wait for them to fully chill before digging in. Ugh, that's probably the only thing I don't like about cheesecake. It tests your patience! Especially when all you want is some dessert.
Makes 16 servings.
Recipe courtesy of Sallysbakingaddiction.com.
4. Philadelphia 3-Step Low-Fat Berry Cheesecake (170 Calories)
This low-fat cheesecake recipe caters to those who are looking to eat a traditional slice of cheesecake. This recipe is topped with fresh berries and provided a good source of vitamin C. This delicious berry cheesecake is just 170 calories.
Ingredients:
2 low-fat graham crackers, crushed (about 1/4 cup)
3 packages (8 ounces each) PHILADELPHIA Fat Free Cream Cheese, softened
¾ cup sugar
1 teaspoon lemon zest
1 tablespoon lemon juice
½ teaspoon vanilla
3 eggs
½ cup sliced fresh strawberries
½ cup blueberries
1/2cup raspberries
2 tablespoon strawberry jelly, melted
Directions:
Heat oven to 300 degrees.
Sprinkle graham crumbs onto bottom of 9-inch pie plate sprayed with cooking spray. Beat next 5 ingredients with mixer until well blended. Add eggs, 1 at a time, mixing on low speed after each just until blended.
Pour into pie plate.
Bake 45 minutes or until center is almost set. Cool completely. Refrigerate 3 hours. Top with fruit just before serving; drizzle with jelly.
Makes 10 servings.
Recipe courtesy of Kraftrecipes.com.
Published by Medicaldaily.com