National Donut Day: A Low-Calorie Doughnut Recipe To Help You Celebrate The Healthy Way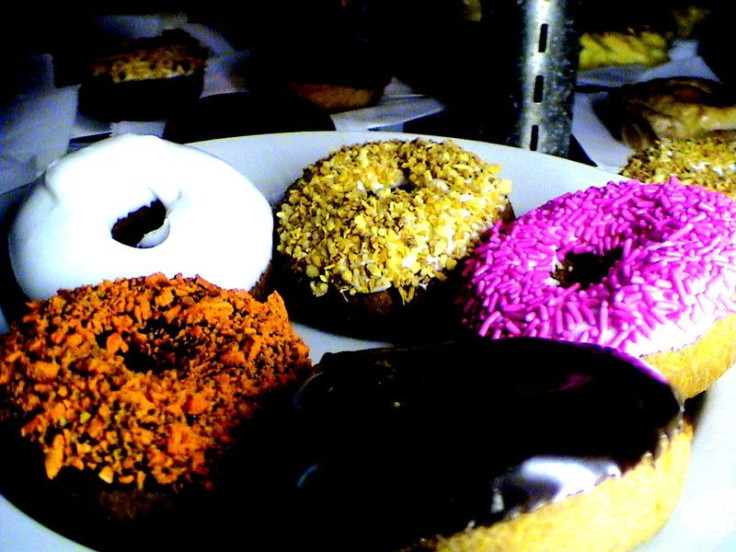 Yes, you read correctly. Today is National Donut Day, a day dedicated to the sweet treat that has delighted us for decades. According to ABC News, "The Salvation Army established this sweet holiday in 1938 to raise funds during the Great Depression and honor the 'lassies,' as they called the female volunteers, who supported the soldiers on the front lines during World War I, serving them delicious meals, and of course, doughnuts. Approximately 250 'lassies' provided assistance to American soldiers in France in 1917."
But, despite the delicious taste and rich history of doughnuts, they aren't the most waistline-friendly.
Look at America's most popular doughnut brands: most doughnuts from Dunkin Donuts contain at least 240 calories, while the lowest calorie option on the Krispy Kreme doughnut menu is the company's original glazed, which contains 200 calories. And from there, Krispy Kreme doughnuts range anywhere between 220 and 400 calories per sugary snack.
While these companies toss free doughnuts your way today, just know that there are healthier doughnut options available. Below is a delicious recipe from Health.com to help you celebrate National Donut Day without straying too far from a healthy diet:
Baked Buttermilk Donuts
Calories: 140
Ingredients:
1 cup whole-wheat flour
1 cup all-purpose flour
1/2 cup sugar
1 1/2 teaspoons baking powder
1/4 teaspoon ground nutmeg
1/2 teaspoon salt
3/4 cup low-fat buttermilk (1%)
2 large eggs
1/4 cup honey
2 tablespoons melted butter
1 tablespoon vanilla extract
Directions:
Preheat oven to 425°. Lightly coat a doughnut pan with cooking spray.
Combine flours and next 4 ingredients in a large bowl, stirring well with a whisk.
Combine buttermilk, eggs, honey, butter, and vanilla, stirring well with a whisk. Add buttermilk mixture to flour mixture; whisk just until combined.
Spoon batter into doughnut pans, filling two-thirds full. Bake in the middle of the oven until doughnuts spring back when touched and are golden on bottom (about 8 minutes). Let cool in pan slightly (about 4 minutes); enjoy!
Published by Medicaldaily.com