National Fritters Day 2014: Celebrate The Holiday By Trying Some Of These Delicious Recipes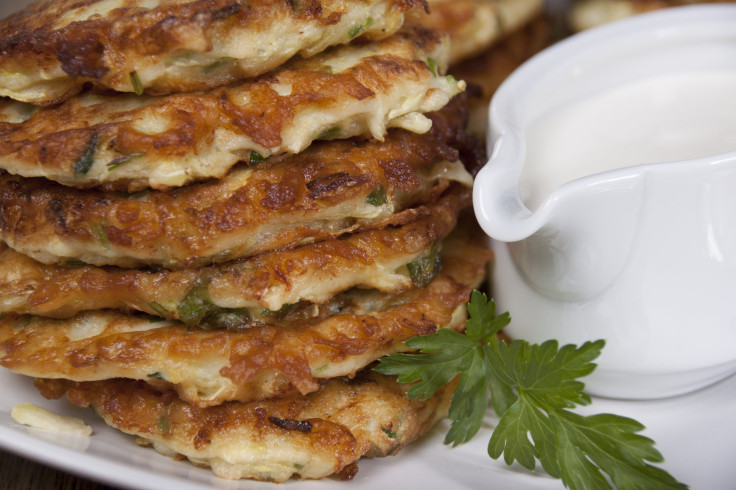 Today is national Fritters Day, not to be confused with National Corn Fritter Day — that's in July. This day, we set aside time to appreciate the pure deliciousness of all variations of the fried delicacy. And what better way to celebrate than to put your own little spin on the tried-and-tested recipe. Here are a few unique and truly tantalizing fritter recipes for you to try out today, or simply whenever you feel like cooking up this treat.
Part of fritters' popularity lies in the simplicity of their recipes: They're essentially deep fried dough. But a variation of the fritter can be found in nearly any cuisine imaginable. Here are some of our favorite recipes. Enjoy!
Zucchini and Corn Fritters, Courtesy of Sara 76 Via Food.com
Ingredients
200 grams frozen corn kernels, defrosted
1 cup zucchini, grated
1 small onion, finely chopped
1 tablespoon light olive oil
2 eggs
Salt
Pepper
1/2 cup flour
1 teaspoon baking powder
1/4 cup light cheese, grated
25 grams butter
2 tablespoons oil, extra
Directions
Heat one tablespoon oil in pan. Add onions, and stir for one minute. Add zucchini, stir for one minute. Then add corn and stir for another minute. Remove vegetables from pan and set aside.
Put eggs, salt, and pepper in a bowl, and whisk lightly.Add flour and baking powder, and then whisk until smooth. Add vegetables and cheese, and stir.
Heat butter and extra oil in pan. Drop spoonful of mixture in pan and cook until golden on each side, turning once.
Apple Fritters, Courtesy of Emeril Lagasse via Food Network
Ingredients
1 tablespoon butter
2 tablespoons brown sugar
Juice of one lemon
1/4 cup water
2 cups chopped apples
Splash apple brandy
1/4 teaspoon cinnamon
2 eggs, separated
2/3 cup milk
1 tablespoon melted butter
1 cup sifted flour
1/4 teaspoon salt
1 tablespoon sugar
Drizzle cane syrup (recommended: Steen's)
Confectioners' sugar
Directions
Preheat a deep fryer.
In a saucepan, melt the butter. Stir in the brown sugar and cook for 30 seconds to dissolve the sugar. Add the lemon juice, water, apples, brandy, and cinnamon. Cook the apples for about three to five minutes or until the apples start to wilt. Remove from the heat and cool completely.
In a mixing bowl, whisk the egg yolks, milk, melted butter, and cooled apple mixture. Stir the dry ingredients into the liquid mixture. Blend until the batter is incorporated. Cover the batter, place in the refrigerator and let rest for two to four hours.
In a standing mixer or with a whisk, beat egg whites until stiff. Remove the batter from the refrigerator and blend until smooth. Fold in the beaten egg white. Using a large spoon, drop the batter into the hot oil and fry until golden brown, about three to four minutes. Remove from the oil and drain on paper-lined plate.
To serve, mound the warm fritters on a platter and drizzle with cane syrup. Garnish the fritters with powdered sugar.
Caribbean Conch Fritters, Courtesy of Cynthia Russell via All Recipes
Ingredients
1 quart oil for frying
3/4 cup all-purpose flour
1 egg
1/2 cup milk
Ground cayenne pepper to taste
Seasoned salt to taste
Salt and pepper to taste
1 cup chopped conch meat
1/2 onion, chopped
1/2 green bell pepper, chopped
2 stalks celery, chopped
2 cloves garlic, chopped
Directions
Heat the oil in a large pot or deep fryer to 365 degrees (185 degrees Celsius).
In a bowl, mix the flour, egg, and milk. Season with cayenne pepper, seasoned salt, salt, and pepper. Mix in the conch meat, onion, bell pepper, celery, and garlic.
Drop the batter by rounded tablespoons into the hot oil, and fry until golden brown. Drain on paper towels.
In a bowl, mix the ketchup, lime juice, mayonnaise, hot sauce, salt, and pepper. Serve dipping sauce on the side with the fritters.
Published by Medicaldaily.com