National Nurses Week 2016: Actress Kristen Bell Partners With Johnson & Johnson To Take Care Of 'Hospital Moms'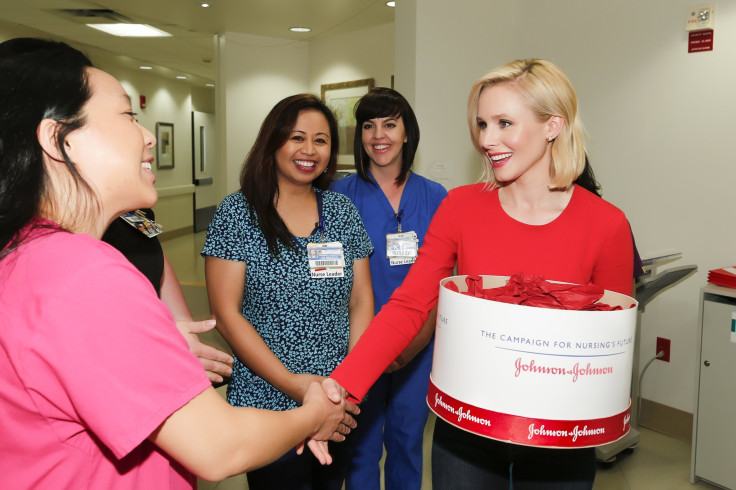 Earlier this year, The View was in the hot seat for comments made about Kelley Johnson, a Miss America contestant who performed a dramatic monologue about her time as a registered nurse for the talent portion of the show. Co-host Michelle Collins said "she basically read her emails out loud and shockingly did not win," while co-host Joy Behar questioned why she was wearing a "doctor's stethoscope" around her neck, later saying she thought it was a costume. As you could have guessed, these comments did not go over well with the audience, especially for those in the nursing community. The show promptly received the ire of Johnson and her fellow nurses.
While the hosts later apologized, with Behar in particular saying it "was just stupid and inattentive on my part," many nurses endure some level of disrespect during their shifts. That's one reason actress Kristen Bell has partnered with Johnson & Johnson to celebrate National Nurses Week, May 6-12. She wants to shine a spotlight on those like Johnson and like her own mother, Lorelei.
Bell, who's best known for her roles as Veronica Mars and Elsa's persistent sister Anna in Disney's Frozen, told Medical Daily that growing up with a mom who was a cardiac nurse revealed early on the integral role nurses play when it comes to health care. Yes, they assist doctors with treatment, but their round-the-clock attention and compassion adds layers to the patient's experience. It's a message, she admits, that she didn't fully appreciate until she had her own children with husband and fellow actor Dax Shepard — Lincoln, 3, and Delta, 1.
"You wish you realize everything at birth, but life is a learning curve," Bell said. "She mothered everybody a little bit when I was growing up, working all around the hospital — the Neonatal Intensive Care Unit, in geriatrics — and each place she had a really good attitude. That she wanted to nurture people shows you how big her heart is, how big other nurses' hearts have to be to do that job."
In order to maintain that passion, though, nurses need care too. When hospitals are understaffed and unsupportive, that means nurses are overworked and patient care suffers. A study published earlier this year in BMJ found that hospitals with a higher nurse-to-patient ratio had a 20 percent lower patient mortality rate than those with a lower ratio. And in a study from the University of Pennsylvania, researchers also found that nurses affect hospitals' mortality rates, concluding that "places where nurses have a good experience working are places where nurses are better able to do their jobs."
"Unlike a doctor … the nurses are there day and night. It's like having a thousand kids. They care for so many people and it is our responsibility to take care of them," Bell said. "I have a friend who recently broke her knee on the job," she said of a nurse she knows. "There are casualties when you work your hardest to take care of someone, so you have to take care of them."
So when Johnson & Johnson reached out to her, she thought it was an organic move to make, especially because the company's credo pledges a responsibility to "the communities in which we live and work and to the world community as well." Anyone who follows Bell on Twitter knows that she regularly lends her voice to issues surrounding health care access, child hunger, and mental health stigma — here and around the world. In fact, Bell recently opened up about her own struggle with anxiety and depression, something her mother helped her to identify when she was 18.
For the nurses' campaign, people can share photos on the Johnson & Johnson Donate a Photo app, and the company will donate $1 to support nursing student scholarships through the Foundation of the National Student Nurses' Association for each upload during the month of May.
"I'm a huge believer that small differences add up to big change," Bell said. "I hope that it evolves the conversation about our interaction with one another, because when you go into a hospital, you're sick and your mindset is frustrated. You could take that out on the person caring for you, reasonably so, but when you have a larger respect for who's caring for you and how hard they work, I think you'll treat them with more respect."
'I Will Always Have a Smile On My Face'
When Allyson Hardy first heard about the comments made on The View, she wasn't just angry — she was hurt. The 26-year-old registered nurse works in the Neuroscience Intensive Care Unit at Jefferson University Hospital in Philadelphia, and as such uses her stethoscope every day, on every patient.
"This is no costume," she told Medical Daily. "This is my uniform that I wear proudly."
Hardy believes part of the reason that the "just a nurse" mentality persists is that most people just don't know what goes on during nurses' shifts. On a busy day, Hardy tends to at least one very sick patient, perhaps someone on a breathing machine who requires five or more life-support pumps to control seizure activity and maintain blood pressure, intracranial pressure, heart and respiratory rates, and body temperature. She's by her patients' sides for hours on end to make sure they are clean, comfortable, educated, and safe. Hardy says she takes time to get to know her patients and their families, making sure the family is comfortable with the care being provided to their loved one. This means "checking, double checking, and sometimes triple checking a doctor's orders before taking action."
This, as Bell mentioned earlier, can be difficult. Sometimes patients and their families can't help but get frustrated with hospital staff. Hardy says family members will watch her every move and pick apart her words, but as hard as that can make her job, she can't complain.
"Someone needs medical attention and I'm going to be your nurse," she explained. "I'll answer every question with a smile on my face. I'll stay calm and never let you know that my knees are killing me, or that I haven't had lunch yet, or a drop of water, or even that my loved one is in the hospital. It might sound a bit like I'm complaining, but I'm only stating the facts … My patient is most likely having a worse day than me, so I just try to help any way I can."
So with a campaign like Bell's, Hardy hopes others can see that hospital staff, from doctors and nurses to respiratory and speech therapists, are all working together to help their patients. She thinks of her entire team during National Nurses Week, but, like Bell, thinks fondly of her own mother, "an awesome nurse for 30-plus years, and who has been my nurse ever since I was born."
Published by Medicaldaily.com