National Tomato Month: Largest Tomato Salad Sets Guinness World Record In Times Square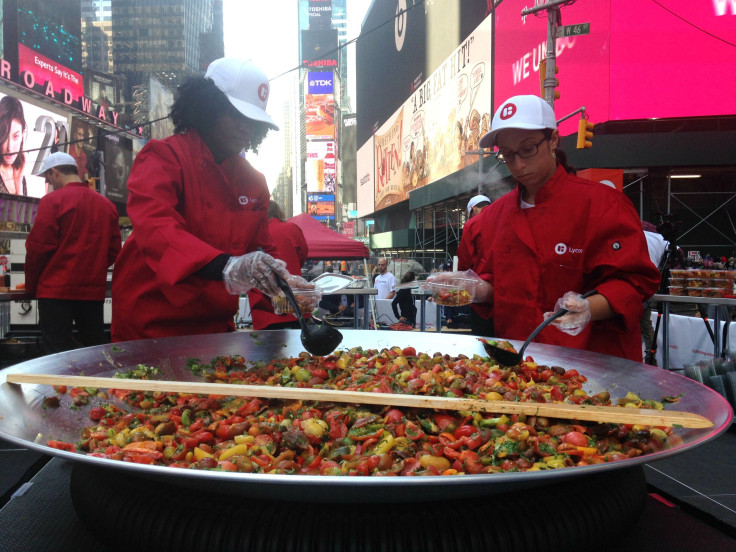 Tomatoes transcend cultures throughout the world, from Italian pasta sauces and pizza pies to Mexican salsas and Mediterranean salads. During October's National Tomato Month, wellness company Lycored went after a Guinness World Record to bring attention to the company's 20th anniversary. They aimed to beat the record of 100 different tomato varieties by displaying 132 red, yellow, orange, green, and purple types set in the center of Times Square.
"People have these romantic ideas about tomatoes," Horticulturist Monica Ozores-Hampton, a professor at the University of Florida's Institute of Food and Agricultural Sciences, told Medical Daily. "We all come from different cultures, and tomatoes remind us of home in a different way. People always have a story about that favorite soup or pizza and they yearn for the tomato. There is not one culture that doesn't have tomato as a centerpiece of their culture's cuisine."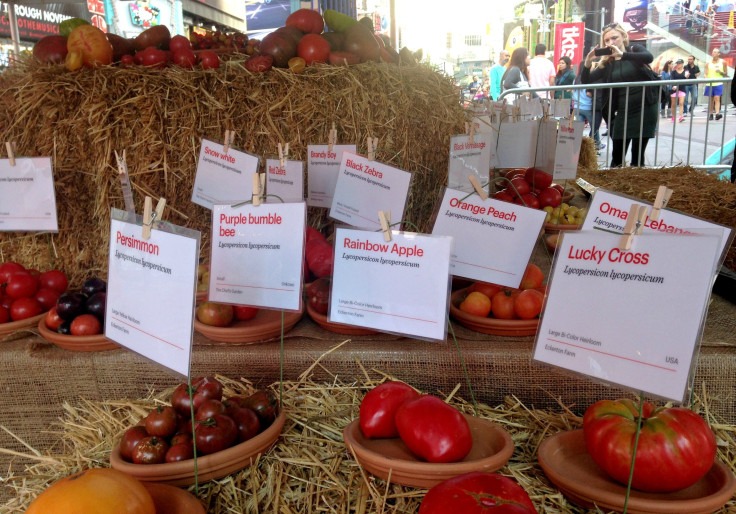 Lycored contacted Ozores-Hampton because they needed at least 100 varieties and were short their record setting goal. Guinness then turned to her to be the tomato expert, responsible for ensuring there were at least 100 different legitimate varieties of tomatoes present at the event. She calls tomatoes the superstar of her expertise, and from managing over 30,000 acres of tomatoes and working at the largest American tomato producing farm in America, it is a most apt description.
"There are literally thousands of varieties of tomatoes," Ozores-Hampton said. "This is nothing compared with the diversity that we have. There are more varieties being made as we speak."
Alongside the tomato display, Lycored chefs prepared the world's largest tomato salad for passerby spectators to taste and enjoy. Executive Chef Donny Rogoff divulged how he concocted the tri-color tomato recipe. In an enormous bowl placed center stage, the salad was sliced and tossed together in a light dressing with heirloom tomatoes because they're firm, have fewer seeds, and less liquid than other tomatoes.
"I definitely never thought I'd be in Times Square making a 1,000-pound tomato salad," Rogoff told Medical Daily. "It's an eye appealing fruit, the color, the shape, people love them. They're delicious and healthy for you. It's the reason why Lycored has targeted them."
Lycored's research focuses on carotenoids, a group of 700 fat soluble nutrients that produce the vibrant colors found in foods like carrots, pumpkins, sweet potatoes and, of course, tomatoes. The company extracts carotenoids and sells the compound to different vitamin and drink manufacturers for a boost of phytonutrients and natural coloring.
After 50 clinical studies, Lycored designed and patented "Lyc-O-Mato," a rich all-natural version of lycopene that provides a boost in antioxidants. According to Harvard Medical School, lycopene is the type of carotenoid that gives the tomato its key color and is the key to reversing signs of aging such as fine lines and wrinkles.
After the event, the rest of the world's largest was donated to the City Harvest, a food rescue organization dedicated to feeding nearly 1.4 million New Yorkers who struggle to provide for themselves and their families.
Published by Medicaldaily.com