'Natural' Cancer Doctor Accused Of Practicing Without A License, Scamming Desperate Woman Will Face Trial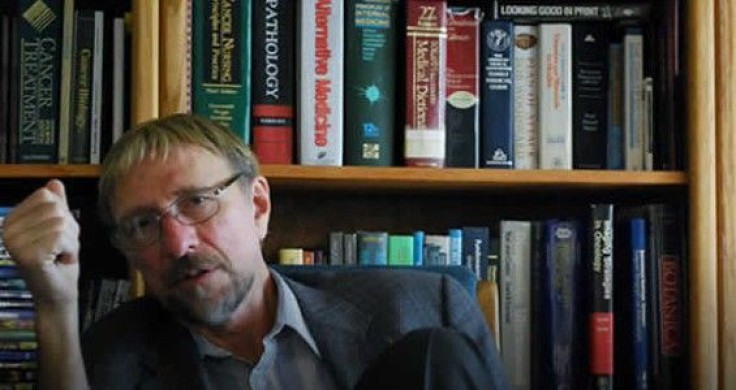 California resident Vincent Gammill, a self-proclaimed guide to alternative treatments for those suffering from cancer, is now facing criminal charges over allegations that he has actually been illegally practicing medicine and providing dangerous drugs to others without a license.
Gammill, 69, was arrested on July 9 by officers from the Ventura County Interagency Pharmaceutical Crimes Unit (PCU) and the Contra Costa County Sheriff's Office -- after they had concluded a month-long investigation into Gammill and the non-profit organization that he has owned and run since 2001, the Natural Oncology Institute (formerly known as The Center for the Study of Natural Oncology). On its website, the NCI bills itself as a "premier educational resource and client advocacy organization focused on helping people with cancer."
Law enforcement officials became aware of Gammill after a woman who had visited him in June complained that she was scammed by his promises of a treatment for her late stage cancer. The women and mother of two, 49, has since only been identified as Fern in the press.
After visiting his center in June, Fern alleged that Gammill told her to ignore her doctor's prescribed drug regimen and to begin taking a mixed concoction of medications that Gammill provided her. He charged her $2,000 as payment for his sixteen hours of consultation and treatment, which Fern paid.
The treatment, according to a statement released by the PCU, included powders, liquid vials, empty capsules, foreign and expired drugs, and a plastic baggie of dirt.
"At one point in the visit Gammill brought out a large frying pan and commented that one of the compounds could burn a hole through the table. Gammill proceeded to instruct the victim how to mix the compound over the frying pan and she followed his instructions," the PCU's statement read. "The mixture was placed into a capsule and the victim ingested the substance. She began to get a burning sensation in her stomach and Gammill told the victim it was good her stomach was burning because that meant the ingredients were still active."
Gammill, now released on $10,000 bail as of last week, told Medical Daily that the charges against him, which also includes dependant adult abuse, are baseless. "The whole thing is absurd," Gammill said. "I'm completely innocent." According to Gammill, Fern had been corresponding with him for some time and did not appear to be dissatisfied with his services at any point. According to PCU, Fern had first heard of the NCI in 2009 and after multiple attempts to resolve her breast cancer through conventional treatments had failed, decided to seek out Gammill as a last resort.
"I've never presented myself as a physician," Gammill told Medical Daily, a claim somewhat supported by the NCI's assertion that Gammill was once a pharmaceutical designer and consultant. According to the NCI website, Gammill considered himself a font of knowledge for those seeking alternative or natural treatments for their cancer, having established a five day-long live-in program that would plot out "therapies of proven clinical effectiveness with the body's native ability to self repair." for his participants.
In 2009, Gammill found out that he had metastatic colorectal cancer, which he has supposedly staved off with his own medical regimen (He told Medical Daily he currently has stage four cancer). It was this "stockpiled" regimen that Gammill claimed was the explanation for the over 25,000 prescription pills found at his office and at home, which included steroids, morphine and ambien. "Everything that was there was perfectly legal," he said.
Gammill is set to appear in court on August 31. The PCU is currently seeking anyone who feels they were victimized by Gammill. Their contact info can be found here .
"It will all be out in the public soon enough," Gammill concluded. "I feel like this story's being sensationalized."
Published by Medicaldaily.com