Nearly 90 Percent of African-Americans with High Blood Pressure May Have Early Heart Disease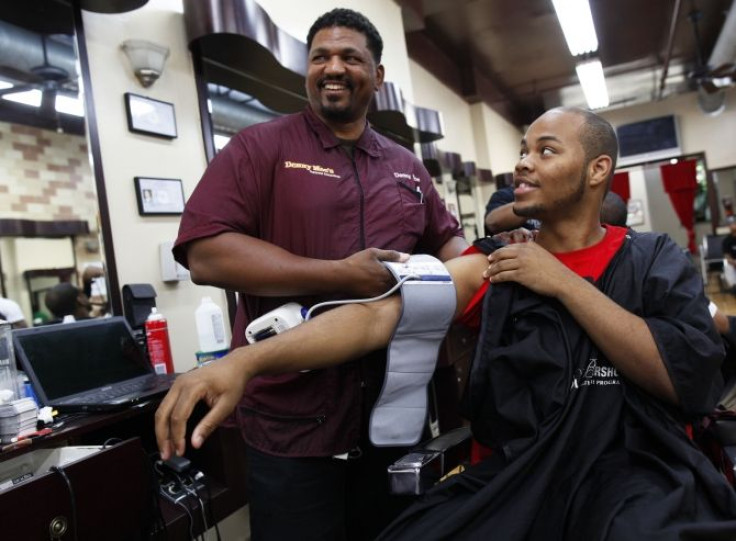 For African-Americans, high blood pressure could be a powerful tool in diagnosing heart disease. In a new study, nearly 90 percent of African-Americans with high blood pressure had early heart disease.
High blood pressure increases the risk of heart disease so it's no coincidence that those with high blood pressure also had heart disease. In a study published in 2010 by the American Heart Association (AHA), African-Americans had the highest rates of hypertension, as high blood pressure is known, worldwide. According to the study, hypertension affected around 43 percent of the African-American population.
Because of the large numbers of African-American affected by high blood pressure, screenings for heart disease is crucial. In a new study, led by Dr. Phillip Levy, from the department of emergency medicine at Wayne State University, many African-Americans who had high blood pressure also had early heart disease and were unaware of it.
Researchers examined 161 patients who were admitted to a single emergency department. Of those patients, more than 93 percent were black and had reported no symptoms or heart disease history.
Surprisingly, of the more than 150 patients who were black, 94 percent had a history of high blood pressure. Echocardiograms were used to take images of the patient's heart to look for any signs of potential heart disease. Close to 91 percent of the black patients had signs of early heart disease based on the images from the echocardiogram.
According to researchers, many of the patients with early heart disease had diastolic dysfunction which reduces the heart's ability to pump blood between chambers and affecting how much blood goes to the body, lungs or brain.
High blood pressure could help doctors diagnose heart disease early before it can truly impact the life of the patient. Considering the patients had no symptoms of heart disease, there could have been a considerable delay in treatment, further increasing the risk of a heart attack, aneurysm or stroke.
For such a high risk group as African-Americans, it is important to not overlook the warning signs of high blood pressure. Losing weight, quitting smoking, healthier diet choices and exercise could help reduce blood pressure as can a variety of drugs.
In the future, public health efforts could help educate high risk groups about the dangers of high blood pressure and could help doctors diagnose heart disease earlier.
The study was published in the Annals of Emergency Medicine.
Published by Medicaldaily.com