New Dental Treatment Eliminates The Need For Drilling In Certain Cavities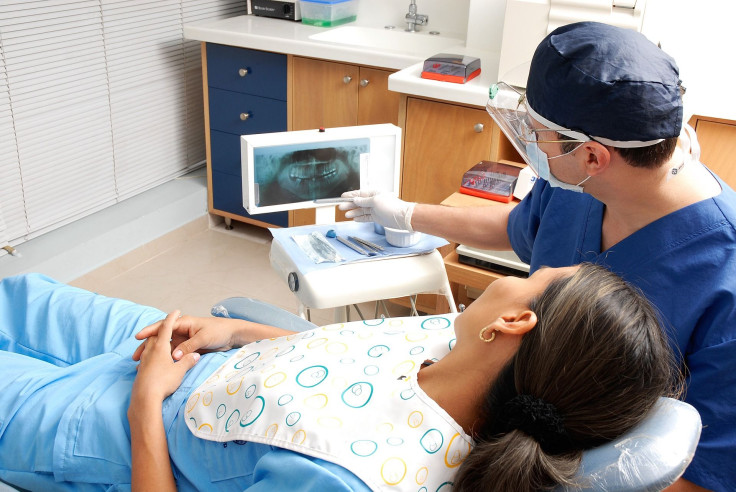 For many, a trip to the dentist is, well, like pulling teeth. The drilling and buzzing of dental tools, uncomfortable X-ray cardboard lodged into your mouth and cavity diagnoses are enough to keep people away from their bi-annual checkups. According to the Centers for Disease Control and Prevention, only 62 percent of adults have gone for a visit in the past year.
Of course, dentists know a trip to their office is usually dreaded, and a team from The University of Alabama at Birmingham's dentistry school is hoping to make it a little more bearable. They're conducting clinical trials of a new, less painful option called resin infiltration to treat cavities in between teeth.
Read: Scuba Diving? The Science-Backed Reason To See The Dentist Before Going Underwater
Typically, dentists numb patients before drilling the tooth to find the cavity. With resin infiltration, a plastic perforated sheet is slid between the teeth and a gel is used to clean the cavity. The resin is then pushed through the sheet. A curing light is the final step, and no anesthesia or drilling are required.
"When we develop cavities between teeth, sometimes we have to go through the tooth, and we end up damaging healthy tooth structure," says Augusto Robles, DDS and assistant professor, in a statement. "This new system allows us to skip the drilling and helps us preserve that structure."
Created in Germany, the treatment is FDA-approved but only available in clinical trials in the United States. There are currently 150 patients in the trial at The University of Alabama. Also important to note is that this doesn't work for all patients. Cavities must be in between teeth or on smooth surfaces. Larger cavities or those on top of teeth do not work for this treatment.
Read: Dental Hygiene Dentist Debunks Recent 'Flossgate' Study: Why It's Best To Keep Flossing
Nathaniel Lawson, DMD and director at the school of dentistry, says this is a significant advancement for the field. "This is one of the most innovative products in dentistry I've seen in a while," he says in a statement.
See Also:
Regular Dentist Visits Help You Avoid Pneumonia, New Research Says
Brush Your Teeth To Save Your Heart: Oral Infections Increase Inflammation In Cardiovascular Disease
Published by Medicaldaily.com