New Hand Foot And Mouth Disease Vaccine Will Prevent Nearly 2 Million Cases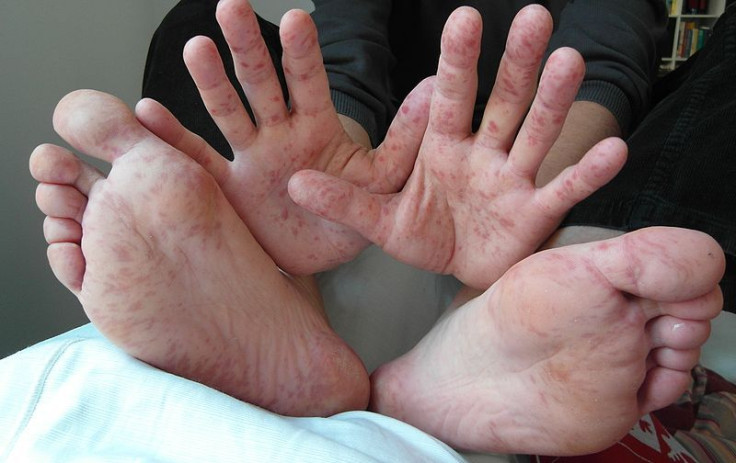 A groundbreaking clinical trial of a new vaccine for enterovirus — one viral cause of hand, foot, and mouth disease (HFMD) — shows the potential to protect millions of children from life-long disabilities. The findings are reported in today's edition of The Lancet.
Children under the age of 10 are the primary victims of HFMD, with outbreaks occurring regulrly around the world since the disease was identified in the early 1970s. In 2012, several U.S. states — Alabama, Connecticut, California, and Nevada — were hit by a surprise but non-fatal outbreak of HFMD
Most cases aren't lethal. Symptoms start mildly at first, including fever and sore throat, but escalate into painful rashes on the hands, feet, and mouth — hence, its name.
However, a small but significant portion of patients develops life-threatening brain infections and paralysis.
The new vaccine, developed by the China-based Sinovac Biotech Ltd., targets enterovirus 71. Many paralyzing forms of HFMD are caused by enterovirus 71, which has plagued much of east and Southeast Asia since 1997.
China was selected as the test location for the new vaccine because the country has been hit hard by enterovirus 71. In 2009, more than 1.1 million cases and 353 deaths were reported, with 27,000 patients having severe neurological complications. In 2010, the total number of cases, mainly due to improved surveillance, to 1.8 million.
The Phase III clinical trial compared 5,000 children, ages six months to three years, who had received the vaccine against 5,000 kids who were given placebo.
The researchers recorded approximately 90 percent protection against enterovirus 71-related HFMD. The vaccine showed similar benefits for diseases caused by the virus which are not classified as HFMD.
There were few side effects from the vaccine — ranging from fever to pain around the site of injection — but their frequency did not differ between the placebo and immunized groups. No deaths were linked to the vaccine.
"The gains made in [this] trial need to be shared internationally, including assessment of any potential cross-protection for other [enterovirus 71 variants] prevalent in other epidemic countries or regions; e.g., Taiwan, Singapore, Malaysia, and Japan," infectious disease pediatricians Nigel Crawford and Steve Graham of the University of Melbourne write in a review of the study.
The investigation was a joint collaboration of several Chinese public health institutes and was conducted at four centers in Donghai, Pizhou, and Baoying counties in Jiangsu province, and Chaoyang district in Beijing. Immunizations were distributed across 32 townships and 485 villages from January 2012 to March 2013.
"The next step is to assess the appropriateness of including an enterovirus 71 vaccine in China's national immunisation programme, including a cost-effectiveness analysis," the authors conclude.
Although enterovirus 71 causes only 2 percent of all HFMD cases worldwide, it has been implicated in 6,000,000 cases and 2,000 deaths over the past decade. Given that there is no existing treatment for HFMD, even this marginal protection could save thousands of lives and prevent children from developing life-long disability.
Sources: Zhu FC, Meng FY, Li JX, Li XL, Efficacy, safety, and immunology of an inactivated alum-adjuvant enterovirus 71 vaccine in children in China: a multicentre, randomised, double-blind, placebo-controlled, phase 3 trial. Lancet. 2013.
Crawford NW, Graham SM. EV71 vaccine: protection from a previously neglected disease. Lancet. 2013.
Published by Medicaldaily.com