Clinical Trial Testing Safety of Abortion Drugs, via the Mail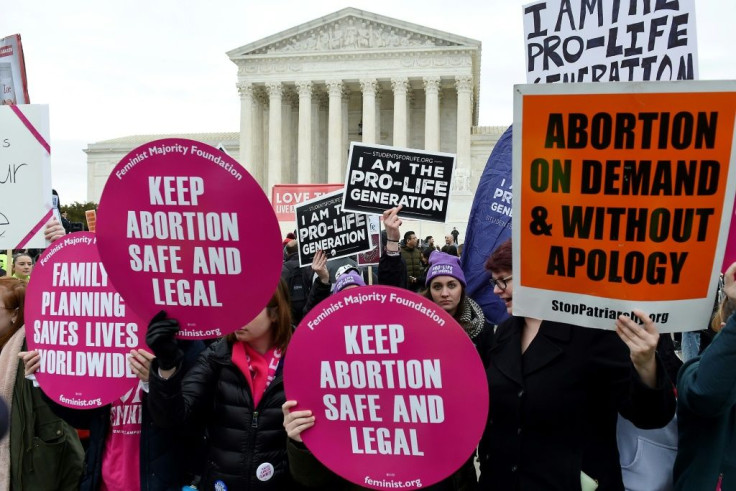 In December, the Supreme Court reversed a lower court ruling that had allowed abortion medications to be sent by mail. Since then, women looking to terminate a pregnancy with the combination medications packet containing mifepristone and misoprostol now must go, in person, to a medical provider.
But this in-person requirement is not necessary in many states and Washington, D.C. Since March 2016, a study has been underway to follow participants who have used the drugs and to assess the drugs' safety and tolerability. The trial's sponsor is Gynuity Health Projects; the trial's listed completion date on clinicaltrials.gov is June 2022. The participating states are listed here.
This medical abortion clinical trial is called TelAbortion. Tara Shochet, project director, told Medical Daily that " TelAbortion is an FDA-approved study to evaluate the safety, efficacy, and feasibility of providing medical abortion using telemedicine and mail. The study operates under an [investigational new drug] with the FDA, which allows study sites to mail the medications to study participants."
The safety data from the TelAbortion study might support removing mifepristone from the FDA's dangerous drugs list called REMS. A drug that lands on the REMS, or Risk Evaluation and Mitigation Strategy, does so because it is suspected of causing serious harm.
Because of REMS mifepristone is not available at any retail pharmacy in the US. It is only available through a certified provider at a clinic, medical office or hospital. Although some states would permit mifepristone to be sent through the mail, drugs on the REMS list are subject to federal law.
Providers who participate in the trial must be licensed to practice according to their state's laws. Ms. Shochet stressed that TelAbortion does not violate the Supreme Court's recent decision. She explained that " Providers cannot sign up to join the study, and the FDA restriction that forbids mailing of mifepristone is for the entire country."
TelAbortion has 9 site partners who provide the TelAbortion services in 17 states and Washington, DC. She added that TelAbortion does not provide services in any state outside of those within the study's approved locations.
Disproving a REMS listing
The FDA put mifepristone on its REMS list when it was first approved in 2000. A look at studies from that time on seems to suggest taking this combination any later than 9 weeks' gestation not only reduced efficacy, but caused serious medical issues. A 2005 study that looked at adverse events discussed viability during the second trimester, which begins well after the fewer than 10 weeks' cut-off currently prescribed. It did not have breakdowns as to when the adverse events took place.
However, a 2015 study of 13,373 women, which did not go beyond 63 days gestation, or 9 weeks, said the rates of women with infection that required hospitalization was 0.01%; for transfusions, 0.03%. The 2005 study, which involved 607 events involving mifepristone over a four-year time period, listed 513 cases needing surgery and 43 cases needing parenteral antibiotics.
In 2016, the FDA amended the original approval indication for mifepristone by decreasing the gestational age for its use and changing the dosing allowance.
Today many providers believe that REMS is unnecessarily restrictive as there are now more than 20 years of data. Daniel Grossman, MD, director, Advancing New Standards in Reproductive Health at the Bixby Center, University of California, San Francisco, told Medical Daily "there is no medical reason to require patients to come in person to a clinic to receive the pills for medication abortion—especially because patients are not required to take the medication in the office. This requirement creates an obstacle to care and increases the risks of coronavirus transmission during the pandemic."An article in the NEJM reported that by 2016 mifepristone had been used by more than 3 million women in the US with 19 deaths reported to the FDA. Meanwhile pregnancy-related deaths in the US are 14 times that figure. In 2018, there were 17 maternal deaths for every 100,000 live births -- almost 32% of all deliveries in 2018 were by cesarean section.

The breakdown of pregnancy-related deaths in 2018:
Almost 33% occurred during pregnancy
17% occurred on the day of delivery
52% occurred after delivery caused by infection, hemorrhaging, and so on
Trial participation
For a woman to qualify as a participant, the pregnancy must be less than 10 weeks along and verified by ultrasound, which can be done locally. There is a video appointment between patient and provider. Then, if the woman is approved as a trial participant, the pills are mailed and must be taken while the pregnancy is less than 10 weeks along.
Ms. Shochet said the pills have been mailed to approximately 1500 study subjects since the project began in 2016.
There are a few reasons why someone would choose medical abortion, especially during the pandemic. P rivacy and controlling the timing of the abortion are two reasons women seek medical abortions.
Current information suggests that health risks related to pregnancy and childbirth outweigh the risk of medical abortion. Removing mifepristone from REMS has the potential to increase access to a safe and effective early-abortion alternative when an unplanned pregnancy occurs.
Planning for an appointment with an abortion provider often includes arranging for time off from work and child care. Other barriers mentioned in obtaining a medical abortion include transportation and travel expenses.
Yvonne Stolworthy MSN, RN graduated from nursing school in 1984 and has spent many years in critical care and as an educator in a variety of settings, including clinical trials.
Published by Medicaldaily.com