New Year's Twins Born In Different Years: 2 Families, In Toronto And DC, Have Twins Born Straddling 2014 [VIDEO]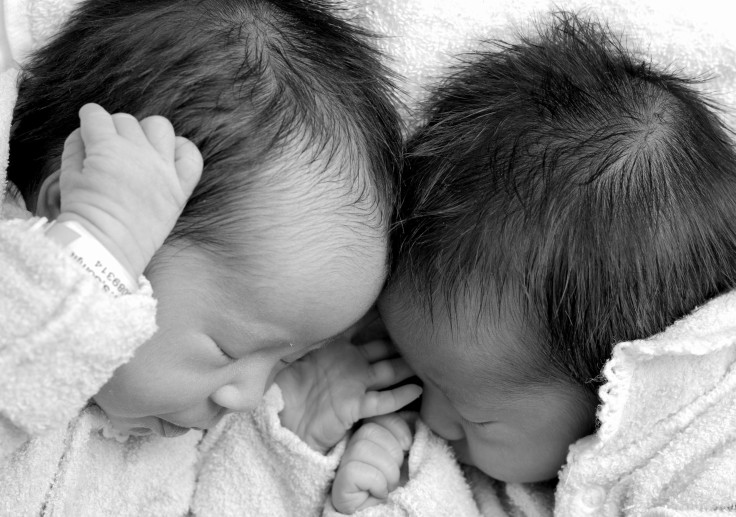 Newborn twins Lorraine and Brandon Begazo will get to celebrate their own, separate birthdays if they want — because they were born in different years. The twin brother and sister were born three minutes apart, one in 2013 and the other just after midnight on Jan.1, 2014. "A few minutes and a year apart is special," said the twins' father, Warren Begazo, according to The Washington Post.
The twins were born in Washington, D.C., at MedStar Washington Hospital Center. Their mother, Yaleni Santos Tohalino, gave birth to baby Lorraine at 11:58 p.m. on Dec. 31, 2013. Lorraine weighed 6 lbs., 4.9 ounces. Then at 12:01 a.m. on Jan. 1, Brandon was born, weighing in at 5 lbs., 10.4 ounces. Both babies are healthy and doing well. "I feel wonderful, full of joy and happiness and a full sense of realization," the twins' father told ABC News. "This is her first children ever, and they're beautiful and she's really happy."
And the Begazos weren't the only twins born straddling the new year.
According to CTV News, Toronto-area mom Lindsay Salgueiro gave birth to the last baby born in 2013 and the first baby born in 2014 at Credit Valley Hospital. The twins' birth was a surprise to their parents because Salgueiro's due date wasn't until Jan. 19. "I'm so relieved that I got my belly out of the way and I'm back to normal now," she joked.The fraternal twin girls, named Gabriela and Sophia, were born eight minutes apart. Gabriela was born just before midnight. She weighed a healthy 7 lbs. Her sister Sophia was born just 38 seconds after midnight, weighing 5 lbs., 15 ounces.
"They are getting all the attention," Salgueiro told CTV News from her hospital bed. "They were the last baby here in the hospital to be (born) for the year and the first one of the year also. They kind of got that golden ticket. They've got different birthdays. They're going to be best friends for life."
Published by Medicaldaily.com