New York City Takes The Cake: Study Shows City Is More Diabetic Than The Rest Of The Nation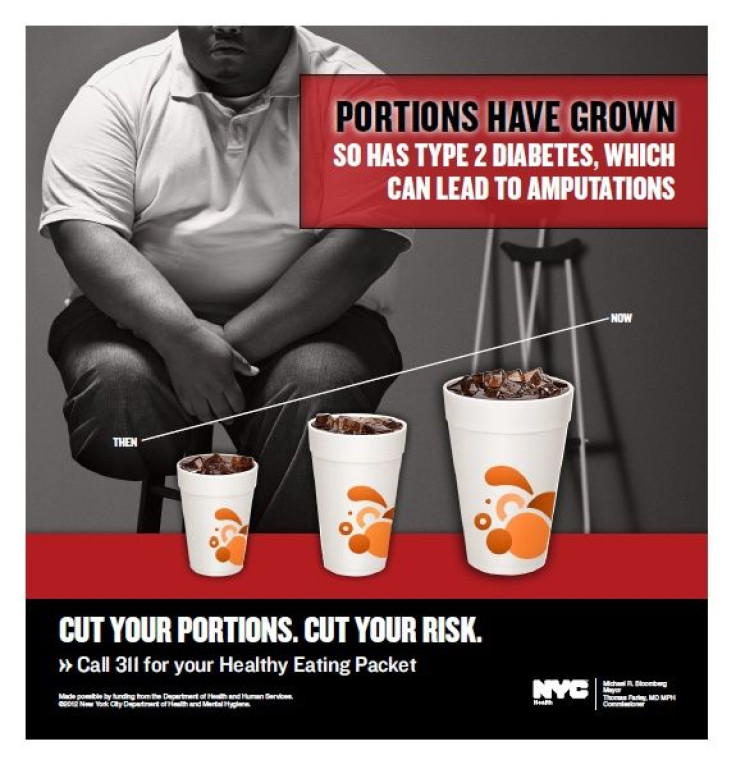 One day after an appeals court struck down Mayor Bloomberg's ban on large sodas, the New York City Health Department released a report on the state of type 2 diabetes among NYC residents, and the numbers are staggering.
The number of diabetics in NYC increased 30 percent between 2002 and 2012, the health department reported at a panel on the diabetes epidemic, held on Wednesday by Everyday Health. The number of New Yorkers with type 2 diabetes jumped from eight percent to 10.7 percent, or one in nine adults, making it the second largest killer behind smoking-related deaths.
"The numbers are pretty startling," Dr. Sanjay Gupta, Everyday Health's medical editor said. Rates of diabetes among New Yorkers are now well over those of the nation, with 10.7 percent of New Yorkers diagnosed, compared to 9.5 percent of the nation.
The report found that 667,000 adults living throughout New York's five boroughs had type 2 diabetes in 2012, compared to 450,000 in 2002. Type 2 diabetes results in about 6,000 deaths each year, MedPage Today reported.
Why Type 2 Diabetes Rates Are Rising
"We are eating less healthfully, are less physically active, and as a result are getting more obese — all of which contributes to diabetes risk," Dr. Ronald Tamler, clinical director of the Diabetes Center at Mount Sinai Medical Center in NYC, told Everyday Health. "Meanwhile, diabetes multiplies the risk for heart attack, stroke, dialysis, and blindness."
Type 2 diabetes doesn't affect everyone equally: Bronx residents are more likely to suffer from the disease than those living in the other four boroughs, and those who are Hispanic or black made up the majority of those with type 2 diabetes. Dr. Joel Zonszein, director of the clinical diabetes center of Montefiore Medical Center in the Bronx, said that a possible reason this demographic was hit the hardest was because many of them were diagnosed "late, after there having been significant complications."
Experts at the panel agreed that the solution to stopping the epidemic will be based on education. But exactly how this will happen — and who will be the educators — is not so easily solved.
"When I deal with patients, I turn and talk to children," Dr. Zonszein said. He said that families need a "prescription for education," and that changes must be made throughout the family, not just with the diabetic.
Dr. Thomas Farley, NYC health commissioner, however, said that although education needs to start early, it's the adults that need the most educating.
"We can't blame the kids," he said. "It comes from the food that adults serve them."
The health department report was released at the same time that Everyday Health reported the results of a survey of over 1,000 diabetics and pre-diabetics. That survey found that although 76 percent of them believed they were managing their diabetes correctly, only 57 percent actually were.
Health Department Efforts To Curb Obesity and Diabetes
The report also comes just a day after a state appeals court struck down the large soda ban the health department and Mayor Bloomberg had been trying to instate.
The ban would have made it illegal for any restaurant that receives health department letter grades to sell sugary beverages over 16 ounces. It was struck down because of loopholes that would have allowed 7-Eleven's 64-ounce Big Gulp to be sold, as well as sugary milk beverages, such as Starbucks' Frappuccinos.
The proposed ban was a result of a long-term campaign against obesity by Mayor Bloomberg and the health department. In 2010, the health department started releasing ads that warned of the links between sugar in sodas and obesity (video below). They then started releasing ads about diabetes' link to sugar consumption.
"Each year, New Yorkers gain 7.5 million pounds," Dr. Farley said at the panel. "If the soda ban went through, it would have reduced that by a third."
Published by Medicaldaily.com