NFL Tells DeAngelo Williams He Cannot Wear Pink All Season To Support His Mom Who Died Of Breast Cancer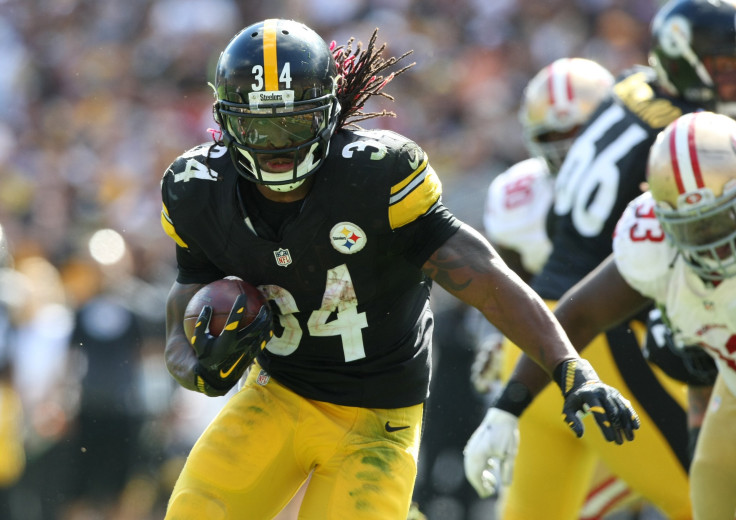 October marks Breast Cancer Awareness Month, and in the NFL that means pink cleats, pink gloves, pink hand towels, pretty much pink everything. For Pittsburgh Steelers running back DeAngelo Williams, however, raising awareness for this disease is not about one month; it's a lifelong endeavor. That's why Williams asked the NFL if he could be allowed to wear pink all season. The response from a league with more than a few PR fumbles on its resume was, unfortunately, par for the course.
"It's not just about October for me; it's not just a month, it's a lifestyle. It's about getting women to recognize to get tested," Williams told ESPN.
Williams, who also sported pink hair extensions on Monday Night Football this week and has painted his nails pink in the past, pleaded his case over the phone to the NFL's vice president of football operations, Troy Vincent. The answer was a stern "no" because it would violate the league's infamously strict uniform policy. It's probably worth noting at this point that it was Williams's idea for NFL players to wear pink cleats during October to honor breast cancer awareness month back in 2009.
"Nothing is stronger than wearing pink on the thing that keeps you going in the National Football League, and that's your cleats," Williams said back in 2009. "Because if you don't have a firm foot in the ground, you're going to slip."
Although the NFL does donate around 12.5 percent of the sales it receives from its "pink" products to the American Cancer Society, its track record for mishandling domestic violence toward women is well-documented. Now it seems the league is determined to mishandle yet another situation that can be used to rectify its unsavory reputation. Instead, it decided to double down on Wednesday by fining fellow Steeler Cam Heyward for honoring his father who passed away after his battle with cancer.
Since the NFL won't let him honor his mother beyond the month of October, Williams has taken it upon himself to help support the 231,840 women who are diagnosed with breast cancer each year. He recently purchased 53 mammograms for hospitals in Pittsburgh, where he currently plays for the Steelers, and North Carolina, where he spent nine seasons with the Carolina Panthers. He picked 53 for the age of his mother, Sandra Hill, when she ended her battle with breast cancer.
Published by Medicaldaily.com