NJ Governor Chris Christie Loses 85 Pounds, Claims He's Physically Fit To Run For President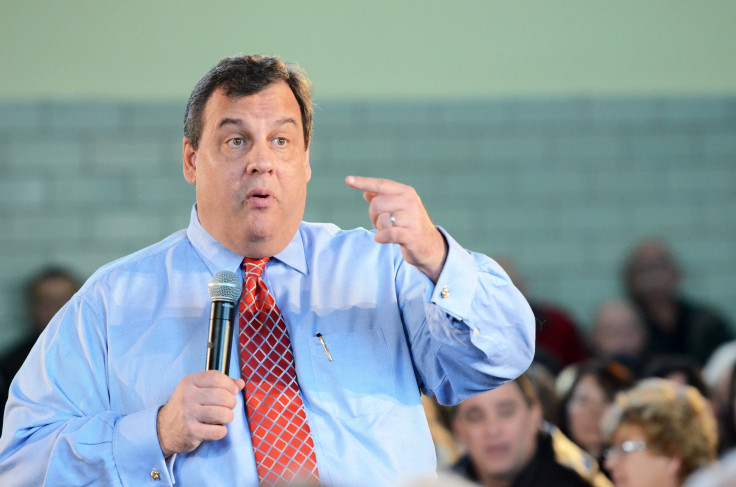 After being pressed by conservative donors about his health, New Jersey governor Chris Christie claims he's lost 85 pounds — ready to potentially run for president for the 2016 elections.
The 52-year-old governor is considered by Republicans to be a conservative capable of winning over Democrats after he was re-elected in a landslide victory last year, supported by Democratic votes. But potential conservative donors are concerned about his health and weight. At a private fundraiser hosted by David Koch at his Upper East Side apartment, Christie responded to questions about his weight, claiming that he has lost 85 pounds since his lap band surgery in February 2013.
According to The New York Times, "The governor's appearance — inside Mr. Koch's sprawling 18-room duplex — was strictly off limits to the press, but a guest told us that Mr. Christie was pressed by donors about his health. He did not reveal his current weight, although he said he understood he had to slim down if he wanted to move beyond Trenton."
Lap band, or gastric banding, surgery involves placing a belt around the upper portion of the stomach, aiming to restrict the size of the stomach and the amount of food it can contain. Lap bands can also provide a sense of fullness from eating less food. Dr. Rachana Kulkarni, Christie's doctor, released a report last October when the governor was running for re-election, declaring that he had "adopted a healthy lifestyle" following his lap band surgery. Kulkarni continued: "He is aware of being overweight and has taken several measure to address this issue."
But Christie has also had his struggles with losing weight, claiming that he was frequently attacked by people who "don't understand" what it's like to be obese. "The things that really got me down, the moments where I would say to myself, 'Why can't I beat this? Why can't I do better?,' it would be when I'd be going out with [wife] Mary Pat on a Friday night or a Saturday night. I'd be changing out of my professional clothes … and would go to casual clothes that I didn't wear a lot, and then something wouldn't fit. That's when I'd really be angry with myself."
But in spite of his difficulties in losing weight, Christie remains optimistic and light-hearted about it. "A doctor once told me you have to have the right relationship with the food you eat," he joked at the fundraiser at Koch's apartment. "And believe me, for many years, I had a great relationship with the foods I ate."
Published by Medicaldaily.com