No Signal: South African Doctors Surgically Remove Cell Phone Lodged In Man's Mouth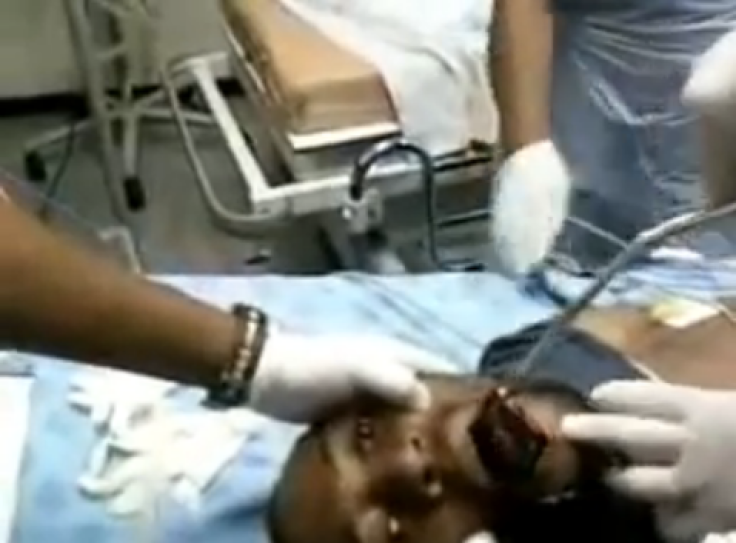 In the digital age, it seems everywhere we go, everyone is attached at the hip to their mobile devices. An unidentified man in South Africa, for unknown reasons, had his cell phone elsewhere — lodged deep inside his mouth. In a miraculous attempt to save this man's life, who could no longer breathe properly, a team of South African doctors in Klerksdorp quickly sedated him to surgically remove the phone with metal clamps.
This extraordinary moment, originally filmed in May 2012, recently resurfaced this week on the video-sharing site LiveLeak. Currently, the video has been watched more than 75,000 times since it's been reposted by user TemperVale. Edwin Shingo, a medical staffer who witnessed the surgery, casually titled the video: "The guy with a cell phone in the mouth," when he uploaded it onto YouTube two years ago.
The graphic video is not for the faint of heart; it shows the phone-pulling procedure step-by-step. First, the saliva is sucked from his gums and tongue. This is then followed by metal clamps that are inserted into the patient's mouth to remove the cell phone, the Daily Mail reported. A group of medics surround the man lying on the hospital bed as the phone slowly emerges from his mouth.
Although this surgery is not a laughing matter, some of the surgeons break into laughter as they struggle to contain their shock. The surgeons can even be heard laughing as the metal clamps are being inserted into the patient's mouth. The amused hospital staff and the sedated man all seem to be relieved post-operation.
While getting a cell phone lodged in the mouth seems unusual, the electronic device has been found in other interesting places. A lawyer from Georgia was apparently showering with his cell phone, when he slipped and fell, and the phone lodged firmly up his backside, DailyCognition reported. During the surgery, the cell phone continued to ring three times, until the team silenced the ring.
The South African man and the lawyer both had successful surgeries and will most likely take more precautions when using their cell phones.
Published by Medicaldaily.com