Nordic Walking Benefits People with Heart Disease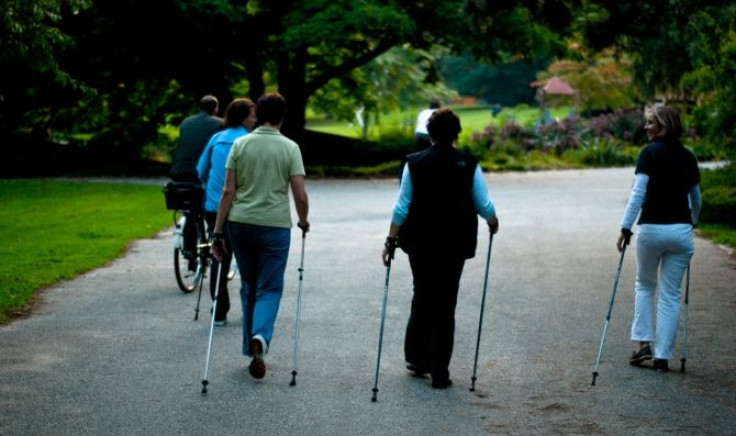 Walking using poles is beneficial to patients with heart disease than walking without poles, says a new study presented at the Heart Failure Congress 2012, 19-22 May, in Belgrade, Serbia.
Nordic walking is a popular form of exercise that does not require much training and expensive equipment and is considered as an effective way to burn calories. Now according to researchers this form of exercise can help people, who can't take the stress of other forms of exercises like aerobics, maintain physical activity.
To study the effects of walking with poles, the participants (12 healthy and 12 with heart failure) were asked to take a 6 minute walking test at the speed of 5 km/hour on a level treadmill. The participants had to do one test with Nordic walking poles and one without them.
The researchers found that there was significant increase in oxygen consumption, heart rate and fatigue among the participants when they used Nordic poles.
More importantly there was no change in the heart rhythm or a decrease in the blood supply to heart, indicating that this type of exercise is safe for people with heart disease.
"In Nordic walking we have a big workload because we use additional muscle groups. We walk with four limbs, so we're exercising our arms and legs at the same time - that's why we have such a beneficial response," Andrzej Lejczak, a physiotherapist at the Military Hospital in Wroclaw, Poland, and a lead author of the study.
Previous studies have shown that using Nordic poles during walking increases oxygen consumption and burns more calories than normal walking. Also, this type of exercise does not cause any exertion.
Nordic walking may improve life of people diagnosed with Parkinson's disease. Studies have found that this type of walking does not have side-effects and is a safe and efficient way to reduce physical inactivity.
Published by Medicaldaily.com