North Carolina To Pay $10 Million To Victims Of Forced Sterilization In State Eugenics Program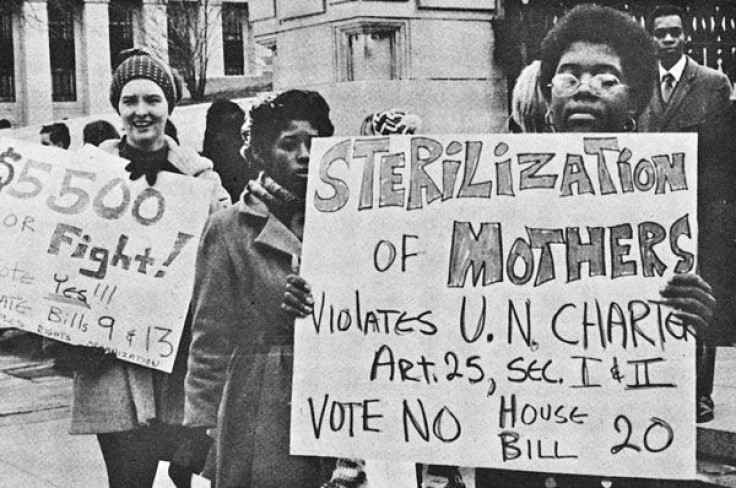 North Carolina lawmakers are hoping to bring some closure to a past fraught with human right violations. On Thursday, they approved a budget of $10 million to be distributed among those who were forcibly sterilized during the eugenics movement that swept the nation between 1929 and 1974.
The state will be the first to compensate victims, once Gov. Pat McCrory signs the measure, which was debated for 10 years, into law.
"It's been a long, hard fight," state Rep. Larry Womble, told CNN. "We're trying to correct a wrong."
The Dark History Of Eugenics
As many as 7,600 men, women, and children who were deemed socially or mentally unfit to reproduce were sterilized during the state's program, and it's estimated that at least 1,500 of them are still alive. The $10 million would be split among however many people came forward — a little less than 200 people have come forward so far, meaning each could get as much as $50,000.
The movement was based on the idea that sterilizing certain people would strengthen the gene pool and reduce poverty. Targeted groups included unmarried women with children, African Americans, people with I.Q.s below 70, the mentally ill, and children from poor families.
In total, 32 states had eugenics programs. Although California's was the largest, sterilizing as many as 20,000 people, North Carolina's was by far one of the most aggressive. The state continued expanding its program after World War II, even though other states were terminating theirs because of the movement's association with Nazi Germany. Nearly 80 percent of North Carolina's sterilizations took place after 1945.
Who Was Sterilized?
In North Carolina, almost anyone could be sterilized, based simply upon someone else's request. Neighbors of one woman, for example, believed she was sexually promiscuous, and called for her sterilization, Charmaine Fuller-Cooper, former director of the North Carolina Justice for Sterilization Victims Foundation, told CNN.
Charlie Follet, now 82, was a teenager living in California's Sonoma State Home, when he was brought to the hospital and told to lie down on an operating table. Doctors didn't tell him what they were doing, they simply gave him an anesthetic to "deaden the nerves," but other boys had told him how much a vasectomy hurt.
"When they did (my right side), it seemed like they were pulling my whole insides out," Follet told CNN. He was admitted to the Sonoma State Home because his parents were alcoholics and couldn't take care of him.
Reasons for sterilization in North Carolina were just as trivial. Patient notes included:
"A woman, 24, pregnant with an out-of-wedlock child: This girl is sexually promiscuous and a pauper."
"A woman, 35, deserted by her husband years before, who has just given birth to her ninth child: She is unable to provide the barest necessities for them or to give them minimum supervision and care."
Although North Carolina's eugenics program officially ended in 1977, the law allowing forced sterilization wasn't repealed until 2003. Now, 10 years later, victims may receive some compensation.
"I hope this provides some closure to what I believe is one of the darkest chapters in the state's history," the state's House Speaker Thom Tillis, told NBC
Published by Medicaldaily.com