North Dakota Abortion Ban: How Strict is the Governor's 'Fetal Heartbeat' Law?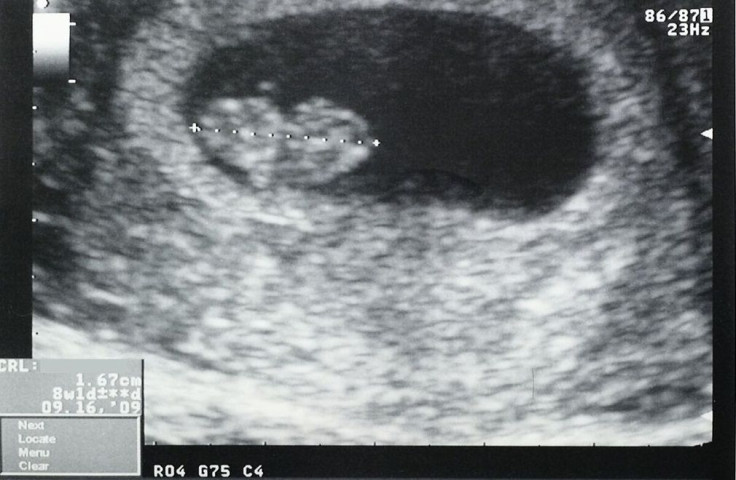 North Dakota abortion laws, just approved by the state's Republican governor Jack Dalrymple, are now the strictest in the United States. Gov. Dalrymple said in a statement that the North Dakota abortion bill, which bans any abortions after the detection of a fetal heartbeat, was specifically designed "to discover the boundaries of Roe v. Wade."
In 1973, the United States Supreme Court's landmark Roe v. Wade decision declared that all American women have the right to an abortion until the fetus is able to survive outside the womb, usually at about 24 weeks into pregnancy.
A fetal heartbeat is often detectable as early as six weeks into gestation with a controversial invasive technique called transvaginal ultrasound. This makes North Dakota's abortion measure a direct contradiction of the time frame endorsed by Roe v. Wade.
Gov. Dalrymple acknowledged in his statement that the North Dakota abortion measure is unlikely to survive inevitable court challenges, but requested that the State Legislature "should appropriate dollars for a litigation fund" in preparation for the legal battle.
"North Dakota's governor today effectively banned abortion in the state, with an outrageous and unconstitutional law that will not stand," said Cecile Richards, president of the Planned Parenthood Action Fund, to CNN.
The North Dakota abortion measures, which take effect on August 1 of this year, also include a ban on abortions based on gender selection and genetic abnormalities, and require physicians who perform abortions to have staff privileges at a North Dakota hospital.
According to CNN, the North Dakota abortion laws target doctors instead of women seeking abortions, with a maximum punishment of a $5,000 fine, five years in jail, and revoking of the doctor's medical license. They also have no provisions for abortions if a woman is a victim of rape or incest.
The Christian Science Monitor reports that North Dakota may be on track to completely banning abortion- a "personhood amendment" that will define life as starting at conception is currently progressing through the state legislature, and may be presented as a statewide referendum as early as November 2014.
The New York Times published an infographic this morning which details the anti-abortion measures that have recently challenged Ro v. Wade around the country. Arkansas, previously the holder of America's most restrictive abortion law, passed a more lenient fetal heartbeat law earlier this month. Since 2011, nine states have banned abortion 20 weeks after fertilization, based on the widely discredited theory that fetuses can feel pain at that point.
The full text of Gov. Dalrymple's statement about the newly approved North Dakota abortion measures is as follows:
"I have signed HB 1305 which would ban abortions performed solely for the purpose of gender selection and genetic abnormalities.
"I have signed HB 1456 which would ban abortions after the detection of a fetal heartbeat. Although the likelihood of this measure surviving a court challenge remains in question, this bill is nevertheless a legitimate attempt by a state legislature to discover the boundaries of Roe v. Wade. Because the U.S. Supreme Court has allowed state restrictions on the performing of abortions and because the Supreme Court has never considered this precise restriction in HB 1456, the constitutionality of this measure is an open question. The Legislative Assembly before it adjourns should appropriate dollars for a litigation fund available to the Attorney General.
"I have signed SB 2305 which requires admitting and staff privileges at a nearby hospital for any physician who performs abortions in North Dakota. The added requirement that the hospital privileges must include allowing abortions to take place in their facility greatly increases the chances that this measure will face a court challenge. Nevertheless, it is a legitimate and new question for the courts regarding a precise restriction on doctors who perform abortions."
Published by Medicaldaily.com