Novartis, Juno Face Production Hurdles For New Blood Cancer Drugs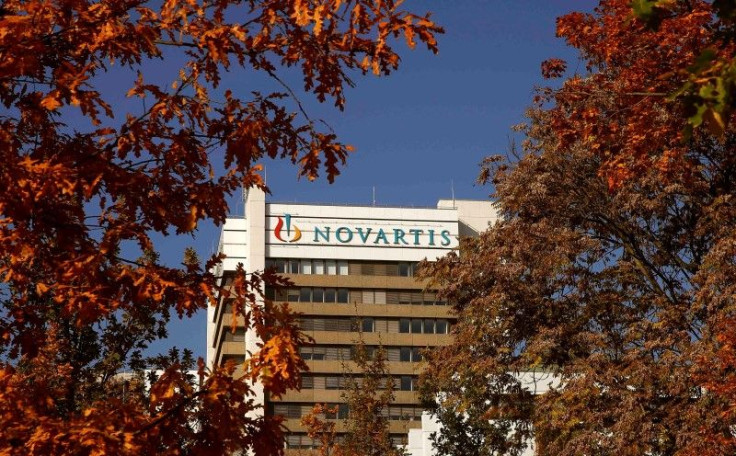 NEW YORK (Reuters) - As drugmakers including Novartis, Juno Therapeutics and Kite Pharma race to launch what may be the most effective treatments ever seen for leukemia and other blood cancers, they are grappling with how to make them widely available in a reliable and cost-efficient way.
The new therapies, known as CAR T cells, are made by extracting immune system T cells from an individual patient, altering their DNA to sharpen their ability to spot and kill cancer cells, and infusing them back into the same patient. In some early-stage clinical trials, the treatments eliminated all trace of leukemia and lymphoma in 40 percent to 90 percent of patients who had run out of other options.
Industry analysts expect CAR T cell therapies will begin to reach the market in 2017 and command prices of up to $450,000 if such remarkable results are replicated in larger trials. The cost is for a one-time application after which, if it works, signs of the cancer are eliminated and the patient needs no more treatment.
"CAR T cell treatments are one of great advances in cancer therapy in the last decade," said Dr. James Ferrara, head of hematological cancer research at Mount Sinai Hospital in New York, who has not personally tested them, but believes they could become the standard of care among the estimated 10,000 U.S. patients who have exhausted other treatment options. "In patients that have been unresponsive to the most effective therapies we have, including bone marrow transplants, leukemia seems to completely disappear."
But the production process takes about two weeks per patient, representing a challenge to provide individualized medications for large numbers of people. Wall Street expects Swiss-based Novartis, which owns a New Jersey plant already producing CAR T cells for its clinical trials, to seek approval next year for the first CAR T cell therapy, months before its smaller rivals. Novartis bought the facility in 2013 from Dendreon, whose Provenge treatment for prostate cancer also required a personalized manufacturing process but failed to take off, leading the company into bankruptcy.
"We feel confident we can scale up to thousands of patients a year with a true global facility," said Usman Azam, Novartis' head of cell and gene therapies. That would be enough to satisfy commercial demand for at least a few years after the treatment is first approved, he said, adding that a second plant could be built if necessary. Azam said the company's treatment, called CTL019, is "potentially curative."
Novartis plans to seek U.S. approval next year for CTL019 in children with acute lymphoblastic leukemia (ALL) - a cancer caused by uncontrolled proliferation of immature white blood cells that can cause death within a year of its diagnosis. About 6,000 Americans annually are diagnosed with ALL, about 60 percent of them under age 20.
In 2017, Novartis will aim for a far bigger market: patients with the most common form of non-Hodgkins lymphoma, called diffuse large B-cell lymphoma (DLBCL). An estimated 25,000 new U.S. cases of the aggressive blood cancer, and 10,000 deaths from it, are seen each year.
Kite and Juno in recent months have leased factories that they are retooling. In the meantime, they are using contract manufacturers for batches of their experimental cells now being used in clinical trials, the companies said.
Kite is converting two leased plants. One facility, near its headquarters in Santa Monica, California, will make CAR T cells used in studies. A larger plant in El Segundo, California, will make commercial supplies of KTE-C19, Kite's treatment for diffuse large B-cell lymphoma, in time for a hoped-for launch in 2017 that would put it neck and neck with Novartis.
David Chang, Kite's chief medical officer, expects to be able to process enough CAR T cells for as many as 5,000 patients annually.
"That should cover the initial launch of KTE-C19 and maybe the first two to three years afterward," Chang said. Kite will minimize overhead and manufacturing costs by building individual modules that can each handle a patient's cells and then "building out" with more factory modules as demand increases, he added.
Juno plans early next year to begin operations at a plant it is leasing in Bothell, Washington. It will seek approval for its JCAR015 treatment for adult ALL by early 2017. The Seattle-based company is testing other CAR T cells for pediatric ALL, non-Hodgkins lymphoma and other cancers.
THE COST EQUATION
Novartis, by already making CAR T cells used in its clinical trials, is better poised than Kite and Juno to move smoothly onto commercial production, said Morningstar analyst Stefan Quenneville.
"A big pharmaceutical company like Novartis has the internal resources to manage these types of things and a lot of experience manufacturing different products and dealing with regulators," Quenneville said.
Smaller Juno and Kite may be less able to control manufacturing costs, and may need to charge even higher prices that would only be justified if their treatments are exceptionally effective, said Wedbush Securities analyst David Nierengarten.
"If their therapies cost $50,000 to $150,000 to make, clearly they'd need to have a $250,000 to $450,000 price point," he said, but only a potential cure could justify the higher range. Novartis may charge between $200,000 and $300,000 for its treatment, Nierengarten said.
Drugmakers typically want an 85 percent profit margin for new products and the same expectations will likely hold among companies making CAR T cells, said James Kuo, a biotech analyst with Northland Capital Markets.
Juno's treatment, under that formula, would likely be priced at about $300,000 for its initial use in treating adult ALL and generate annual sales of $250 million by 2020, if approved, Kuo said. That would assume a $45,000 cost per patient of manufacturing the cell therapy.
Juno Chief Executive Hans Bishop said the eventual price of JCAR015 will hinge mainly on how effective it is in larger trials. In an earlier study among adults with aggressive ALL, 89 percent had complete remissions. He said the company's factory should be running within a year and supply "single digit" thousands of such patients with JCAR015, if it is approved, exceeding the target U.S. adult ALL population.
ANOTHER APPROACH
A second, unproven approach would be to use immune system cells taken from healthy donors and modify them to serve many cancer patients. Theoretically, oncology experts said, a single donor could supply treatments for 4,000 patients. But to succeed and be safe, those engineered cells would have to be further altered to ensure a patient's body accepts them. Otherwise, they may trigger a potentially deadly immune system response against foreign invaders.
Many drugmakers consider the task all but impossible. But Novartis, as well as France-based Cellectis in conjunction with Pfizer, are working on such an "off-the-shelf" option they hope will be faster and cheaper. Their CAR T cells could be frozen and shipped anywhere in the world, for almost immediate use. And it stands to reason that cells from a healthy donor could be hardier than T cells coming from individual patients that have been battered by chemotherapy and radiation, according to Cellectis Chief Executive Andre Choulika.
Using a new technology called gene editing, in which genes can be switched off, Cellectis hopes to move into the more lucrative solid tumor arena through its deal with Pfizer.
Leading CAR T cell companies have scoffed at Cellectis' approach. But many are acquiring gene editing technology of their own that will allow them to move in that direction, should Cellectis' efforts work in its first human trials, planned in coming months.
"If it plays out, it would be a game-changer of a company," said Behzad Aghazadeh, a managing partner at venBio, which holds Cellectis shares. "Any reasonable person would say, 'I'll take the off the shelf product.'"
But Chang, of Kite, predicted it could take another decade for companies and researchers to safely perfect the technology and make it available. "Biologically, I think the hurdle is extremely high."
(Reporting by Ransdell Pierson. Editing by Michele Gershberg and John Pickering)
@ 2012 Thomson Reuters. All rights reserved.