Novartis Multiple Sclerosis Drug, Gilenya, Implicated In Rare Brain Disease; FDA Continues To Investigate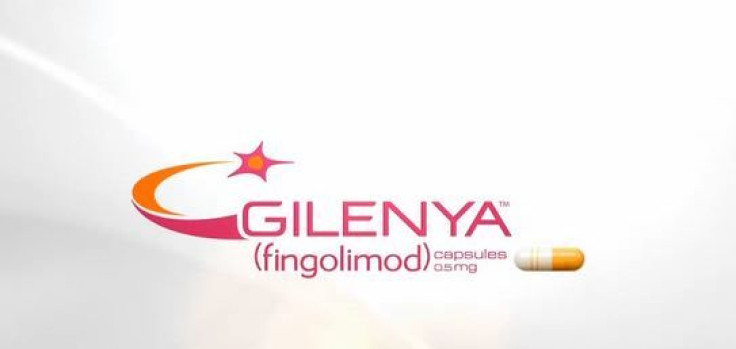 The U.S. Food and Drug Administration (FDA) has issued a safety communication regarding Gilenya (fingolimod), a multiple sclerosis (MS) drug that it approved for use in 2010. After taking the drug, a patient in Europe developed a rare and serious brain infection.
The FDA noted this is the first case of progressive multifocal leukoencephalopathy (PML) reported by a patient who had not previously received Tysabri, an MS drug produced by Biogen IDEC and associated with a higher risk of PML.
Novartis reports that approximately 71,000 patients worldwide have been treated with Gilenya for MS, a disease that affects the brain and spinal cord. In an e-mail to Reuters, the company said it "considered the infection unlikely to be attributable to Gilenya and had informed the FDA of the infection in July." The pharmaceutical company noted the patient's relatively short exposure to Gilenya — less than eight months — as well as the repeated exposure to corticosteoroids. Apparently, through magnetic resonance imaging (MRI), atypical brain lesions were observed to be present before the patient began treatment with the drug.
PML is a rare and serious brain infection caused by the John Cunningham (JC) virus that damages the material (myelin) that sheaths and insulates nerves in the white matter of the brain. Myelin allows impulses to fire quickly and efficiently along the nerve cells. By age 10, most people have been infected with the JC virus, but it rarely causes symptoms; when it does, most usually in those with a weakened immune system, PML may cause death or severe disability.
Medications, including Gilenya, can weaken the immune system. The FDA reports that before treatment with Gilenya, the patient had been treated with interferon beta-1a, azathioprine, and multiple courses of intravenous corticosteroids (administered during treatment as well).
MS, which has no cure, is thought to affect more than two million people worldwide. The potentially debilitating disease results when the body's immune system eats away at myelin, which may result in deterioration of the nerves themselves, a process that's not reversible. Symptoms vary widely; people with severe cases may lose the ability to walk or speak clearly. Treatments may help manage symptoms and reduce progress of the disease.
FDA does not recommend patients discontinue use of Gilenya without first talking with their healthcare provider. The agency is working with Novartis to fully evaluate Gilenya and is providing this alert while continuing to investigate the PML case. Health care professionals and patients should report side effects involving Gilenya to the FDA MedWatch program.
Published by Medicaldaily.com