Novartis' Signifor, An Experimental Drug For Acromegaly, Succeeds In Human Trials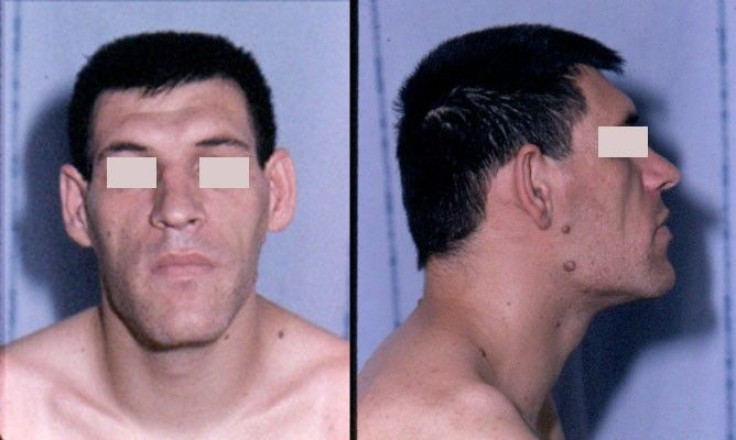 Acromegaly is a rare hormonal disorder in which the pituitary gland produces too much growth hormone, causing the bones of a fully-grown adult to begin increasing in size. On Monday, Novartis presented results from human trials showing acromegaly patients who took Signifor LAR had better results than patients taking the standard drugs. The Swiss pharmaceutical giant stated it has filed for regulatory approval worldwide, including with the Food and Drug Administration (FDA). "As part of our long-standing commitment to transforming the care of rare pituitary diseases, we are working to bring this potentially meaningful solution to the acromegaly community," said Dr. Alessandro Riva, Global Head, Oncology Development and Medical Affairs.
What is acromegaly?
Acromegaly (ACK-ro meg-a-lee) is caused by the growth of a non-cancerous tumor within the pituitary gland that causes the secretion of excess growth hormone (GH), which in turn leads to elevated levels of insulin-like growth factor-1 (IGF-1). With these higher secrtions, patients' bones begin to increase in size, including those in their hands, feet, and face. When exposed to abnormally high levels of GH and IGF-1, acromegaly patients also face a two- to-three times higher risk of death, with heart disease causing about 60 percent of all deaths. A rare disease, acromegaly affects about six in every 100,000 adults in the U.S., while worldwide estimates range from three to four people per million. Commonly, acromegaly occurs sometime in middle-age and is often mistaken at first for other illnesses. In fact, because doctors so often misdiagnose the disorder, experts estimate the average delay between onset and diagnosis as six to 10 years.
Treatment for this disorder usually involves surgical removal of the tumor, causing abnormal growth hormone release. Unfortunately, the tumor may be too large to remove completely in some cases. In such cases, patients will be treated with radiation, though the reduction in growth hormone levels is very slow in these cases. When it comes to drug treatments, the primary goal is to decrease the levels of GH and IGF-1.
In the Novartis experiment, patients taking Signifor LAR (pasireotide) showed a greater decrease in both their levels of GH and IGF-1 as well as tumor size when compared to a control group of patients who continued to receive the standard therapies (octreotide LAR or lanreotide Autogel). This drug trial included 198 patients who either had prior surgery or had not, while all of the participants had been given the maximum approved dose of either octreotide LAR or lanreotide Autogel for at least six months. Despite prior treatment, all of the patients in the study had not shown an adequately controlled condition (measured by their levels of GH and IGF-1 and tumor size).
Previously, Signifor has been approved by the FDA for the treatment of Cushing's disease. The most common side effects caused by drug are diarrhea, nausea, high blood sugar, gallstones, headache, abdominal pain, fatigue, and diabetes mellitus.
Published by Medicaldaily.com