Obama Boosts Concussion And TBI Injury Awareness, Calls For An End To 'Suck It Up'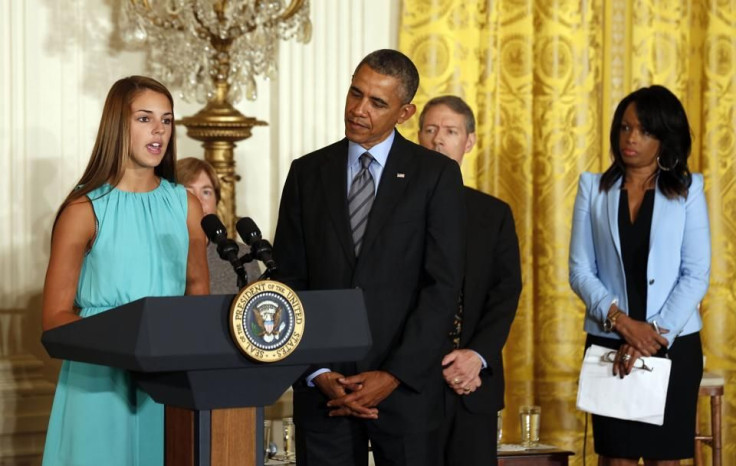 As an avid sports fan and understanding parent of two teenage daughters, President Barack Obama has decided to take a public stance on youth sports head injuries and the culture behind it. After recalling sports injuries he had as a child that might have been undiagnosed concussions, Obama announced he wants youth sports to stop encouraging kids to "suck it up" after a head injury.
"There were a couple of times where I'm sure that that ringing sensation in my head and the need to sit down for a while might have been a mild concussion, and at the time you didn't think anything of it," Obama said at an event designed to bring awareness to head injuries in youth sports.
On Thursday, Obama spoke in front of 200 sports officials, medical experts, parent activists, and youth athletes for the first White House Healthy Kids and Safe Sports Concussion summit. The overall goal is to find new ways to identify, treat, and prevent serious head injuries with particular focus on youth sports.
"The awareness is improved today, but not by much," the President said. "So the total number of young people who are impacted by this early on is probably bigger than we know."
It's important for those involved in the initiative, to make sure that children and adolescents can participate in sports safely and go onto leading full and healthy lives. A concussion is a type of traumatic brain injury when the brain moves back and forth inside the skull. It can occur without the loss of consciousness, which makes it difficult to recognize, making proper response and treatment necessary in order to prevent further injury or, in some repeated cases, death.
"I think they should have mandatory imPACT training for students," Donna J. Romano, a physician assistant at Premier Orthopedic Surgery and Sports Medicine, PLLC, told Medical Daily. "If you return to play before you're ready, it affects your academics and even your future academics."
ImPACT training, also known as "immediate post-concussion assessment and cognitive testing," evaluates an athlete's baseline cognitive abilities before injury, Romano explains. If a head injury occurs, such as a fall or collision, the athlete is retested and if they can't reach their pre-head injury baseline levels then they shouldn't return to play until they do. While their brain heals it shouldn't be exposed to anything that requires brain activity, which includes no computer, television, reading, or homework. Any brain activity will take away from the healing process, which is why a student's academics are put into jeopardy.
Concussions are a serious problem in youth sports that can happen from falling or bumping into another player. Symptoms may not occur for a few days afterward, such as headaches, fuzzy or blurry visions, nausea, dizziness, sensitivity to noise or light, balancing problems, and lack of energy.
"Yes you can suck it up but it's your brain and it's going to affect you for the rest of your life," Romano said. "I think the rules will change eventually-- the stance in football for example. These head injuries are very serious and people don't fully understand the extent."
To help ensure the safety and proper recovery of concussions, the Centers for Disease Control and Prevention (CDC) has dedicated an online training program to educate parents, athletes, coaches, and medical professionals, called "Heads Up: Concussion in Youth Sports."
"As parents tend to do, we talk about our kids, and we talk a lot about sports," said White House Press Secretary Jay Carney.
Obama's efforts to raise awareness and try to jumpstart a national conversation throughout all sectors of a youth sport's life were well received by the attendees. He wants to create a new attitude in the world of sports, in which players who have fallen or had a hard hit aren't made to feel weak because they sit out for a game or two to rest and recover.
"We have to change a culture that says you suck it up," he said. "Identifying a concussion and being able to self-diagnose that this is something that I need to take care of doesn't make you weak — it means you're strong."
Each year, nearly 250,000 kids and young adults are admitted into a hospital emergency room for a brain injury caused by a sport or recreational activity, Obama noted. From 2001 to 2009, the number of emergency room visits increased from 153,375 to 248,418, with the highest rates among boys from 10 to 19 years old, according to the CDC.
"It really highlights this as a public health crisis, and elevates this to a national health priority," he said.
Published by Medicaldaily.com