Obama On Leno: 5 Things The President Explained About Obamacare Reforms On 'The Tonight Show' [VIDEO]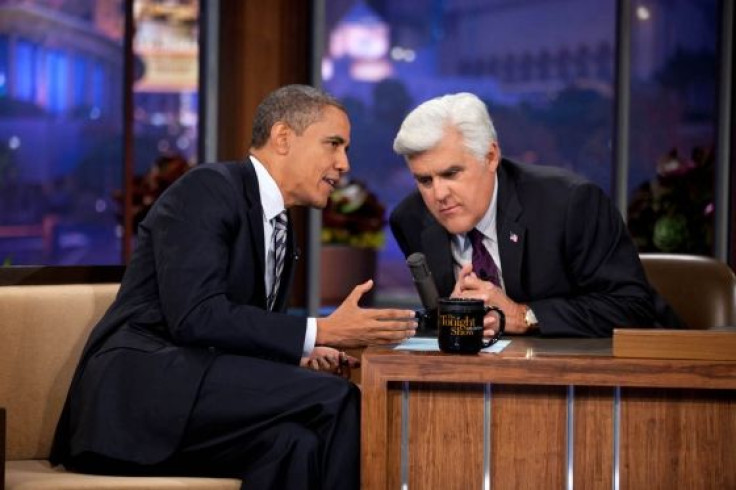 President Barack Obama made his sixth appearance on The Tonight Show With Jay Leno Tuesday, where he discussed everything from terror alerts to broccoli.
In his lengthy interview with the late night talk show host, Obama first took time to address the travel alerts placed on U.S. citizens traveling to foreign countries. He suggested checking the State Dept. website for information about traveling abroad.
Read more: US State Dept. Issues Global Travel Alert, Warns Citizens Of 'Continued Potential For Terrorist Attack'
"Find out what kind of precautions you should be taking, then I think it still makes sense for people to take vacations," Obama said. "They just have to make sure that they're doing so in a prudent way."
In one of the more lighthearted moments in the interview, the president joked about his love for broccoli and how journalists thought he was lying last month when he said his favorite food was broccoli.
"Me and broccoli," said Obama. " I don't know, we've got a thing going."
Read more: Obamacare Starts In 56 Days: You Can Create An Online Healthcare Account Today
The President also made sure to take some time to discuss the changes that are set to take place on October 1st under the Affordable Care Act, or "Obamacare." Here are five things we learned about Obamacare from Obama's conversation with Leno:
1. Health insurance companies have to spend 80 percent of your insurance premium on health care — not on executive salaries and administrative costs.
2. Students who graduate from college and do not yet have insurance of their own can remain on their parents' plan until they turn 26.
3. There is now free preventive care and free contraceptive care provided for young women and families under Obamacare.
4. On October 1st, if you don't have health insurance, you'll be able to join "marketplaces" where you can search for a plan that best suits your needs. Those marketplaces will provide lower-cost health care for those who need it most. And, if you still can't afford to buy into a marketplace, the government will give you tax credits.
5. Right now, you can go to HealthCare.gov to pre-register to find the plan that's right for you.
Published by Medicaldaily.com