Obama Pushes State Medicaid Expansion In Healthcare Hub Nashville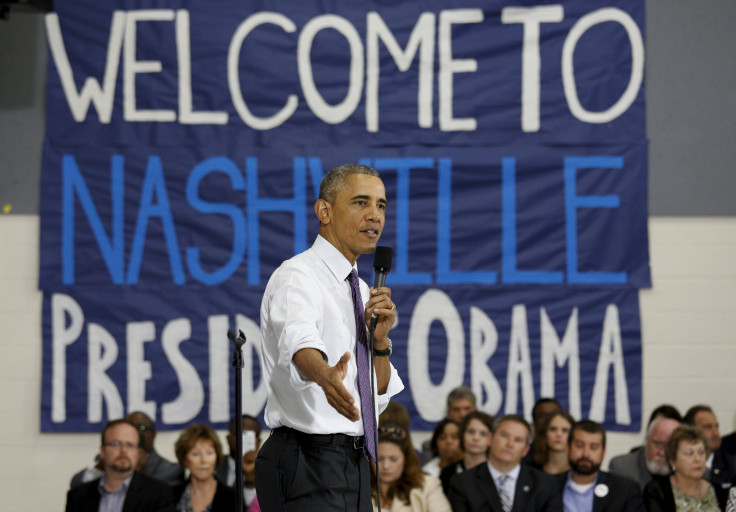 NASHVILLE, Tenn. (Reuters) - Fresh from another Supreme Court validation of his landmark healthcare law, President Barack Obama visited healthcare hub Nashville, Tennessee on Wednesday to push state governments to expand the Medicaid health program for the poor.
Obamacare, as the president's law is known, envisions a major expansion of the program, but nearly half of all U.S. states, mostly Republican-controlled, have rejected that part of the law. The Tennessee legislature voted against an expansion in February, joining 21 other states in doing so.
Without expansion, 6.9 million low-income Americans, including 292,000 in Tennessee, will not get Medicaid assistance, said the Kaiser Family Foundation.
Taking questions at an elementary school, Obama urged Republicans state legislators to "open your hearts and think about the people here in Tennessee who are working hard and struggling and just need a little bit of help."
In total, states that have opted out of Obamacare's Medicaid expansion turned down $472.1 billion in federal funds that would have been used for that purpose in 2014 through 2024, said Kaiser.
Nashville rode the 1990s healthcare boom to become a major industry center, with 50 percent growth in clinical provider jobs between 1995 and 2008, according to the Nashville Health Care Council. The sector accounts for 250 businesses in Nashville and more than $70 billion in revenue.
Shares in Nashville-based HCA, which accounts for 4 percent to 5 percent of all in-patient care in the United States, rose 10.6 percent on the Supreme Court decision on Thursday that upheld Obamacare's insurance premium tax subsidy system.
HCA spokesman Ed Fishbough said the company was pleased with the ruling and has backed efforts to expand Medicaid in Tennessee.
Sheryl Skolnick, a hospital industry analyst for Mizuho Securities, said hospitals welcome expanded Medicaid because it covers the uninsured poor who often go to the hospital for routine health ailments, increasing costs for everyone.
For the hospitals, "it is a burden. The hospital becomes the insurer of last resort," said Skolnick.
But the conservative Beacon Center of Tennessee, one of the loudest voices of opposition when the state considered expansion, said Obama is selling a program that is a "taxpayer bailout for special interests and hospitals."
"While we thank the president for visiting our beautiful capital city, giving a speech on bad policy and shaking a few hands is not going to solve our healthcare problems here in Tennessee," said spokesman Mark Cunningham.
(Reporting by Julia Edwards)
Published by Medicaldaily.com