Obama Reignites 'Broccoligate' After Choosing Broccoli as Favorite Food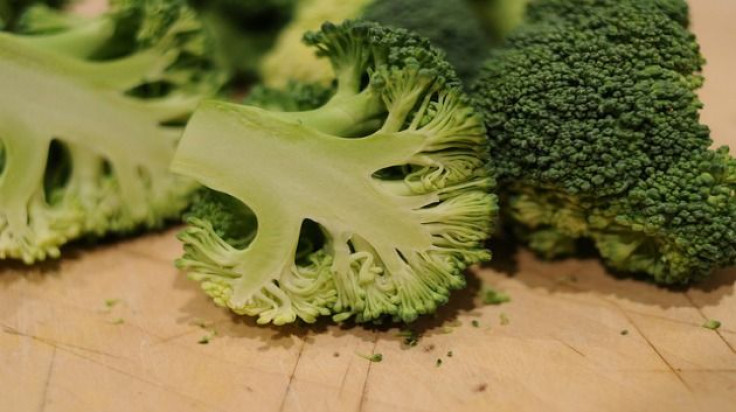 At the second annual "Kids' State Dinner" at the White House July 9th, President Barack Obama's response to a kid journalist's question about his favorite food wasn't burgers or hot dogs — it was broccoli.
Fifty-four children earned a trip to the White House after winning the "Epicurious Lunchtime Challenge" a nationwide healthy recipe contest, part of first lady Michelle Obama's anti-obesity campaign. The kids attended a dinner hosted by Michelle in the State Dining Room, where White House chefs cooked some of the winning recipes, and President Obama made a surprise appearance.
After a child asked Obama what his favorite food was, the president's response was "broccoli."
The young chefs, all between the ages of eight and 12, came up with a variety of recipes that included eggplant lasagna rolls, quinoa "risotto" with shrimp and kale, and Hawaiian turkey sliders with mango-pineapple salsa.
Michelle Obama initiated the campaign, "Let's Move!," three years ago to fight the nationwide obesity epidemic. According to the CDC, 35.7% of U.S. adults are obese and medical costs associated with obesity were estimated at $147 billion in 2008.
The campaign spurred industry groups and food companies to make food healthier. In Mississippi, which had previously been considered the most obese state in the nation, the child obesity rate dropped 13% between 2005 and 2011, after state lawmakers and school districts adjusted standards for food in school vending machines and chose to serve more fruits, vegetables, and whole grains.
Though there aren't many, if any, photos of Obama chomping down on broccoli all over the internet, there are Tumblrs devoted to blogging photos of him eating burgers, and sites of him eating other things, too — from ice cream to hearty diner breakfasts — all over the country.
Whether or not Obama's answer is honest, it has re-opened "Broccoligate," the presidential debate over the apparently controversial veggie. In 1990 former president George Bush banned the green vegetable aboard Air Force One because he disliked it so much.
"I haven't liked it since I was a little kid and my mother made me eat it. And I'm president of the United States, and I'm not going to eat any more broccoli!" Bush famously said.
Broccoli is possibly one of the most nutrient-rich foods we can eat. It's a member of the cabbage family, originally cultivated in Italy — its Italian name, broccolo, means "cabbage sprout" and is derived from the Latin word brachium, which means branch or arm.
The World's Healthiest Foods website states that "Because of its different components, this vegetable provides a complex of tastes and textures, ranging from soft and flowery (the florets) to fibrous and crunchy (the stem and stalk). Its color can range from deep sage to dark green to purplish-green, depending upon the variety."
Broccoli contains phytonutrients, glucoraphanin, gluconasturtiian, and glucobrassicin, which in combination have a strong effect on the body's detox system. It is rich in antioxidant and anti-inflammatory nutrients, as well as fiber, potassium, Vitamins A and C, and calcium. It also contains protein, is low in calories, and helps to prevent heart disease. And according to the president, if cooked right, broccoli can be tasty, too.
Obama previously stated that he didn't enjoy vegetables when he was younger because his family boiled them and they became "mushy."
"But now I actually like vegetables," Obama said, "because they're prepared right."
Published by Medicaldaily.com