Occupy Protesters Block Oakland Port, $2.4 Million in Losses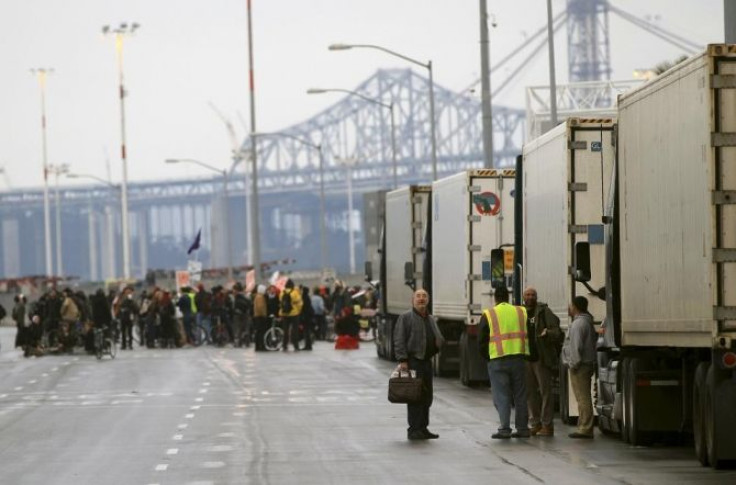 The Occupy Movement, who blocked entry into the Port of Oakland on Monday, has cost the City of Oakland a total of $2.4 million, city officials said.
Oakland protesters have stopped a line of big-rigs from entering the Port in their march to shut down the busy cargo terminal, according to the San Francisco Chronicle.
In an effort to "attack the 1 percent at their point of profit," Occupy Wall Street protesters have tried to shut down ports along the West Coast on Monday, and a group of demonstrators has declared victory as it prepares to march back to West Oakland BART station located across the bay from downtown San Francisco.
The Port of Oakland has activated the Port's Emergency Operations Center (EOC). Port officials said in a statemetn they are committed to facilitating peaceful forms of expression and free speech rights while providing personal safety and protecting property.
Oakland's mayor urged demonstrators to respect workers at the port.
"In my 11 months in office, I have worked to bring jobs and investment to the Port of Oakland," said Mayor Jean Quan of Oakland. "Thousands of people work at the Port of Oakland every day. Thousands more in agriculture and other industries also depend on the Port of Oakland for their daily wages. We urge the demonstrators to respect the rights of the 99% working at the Port and to keep their protests peaceful."
Although the statement indicates that the Longshoreman's Union and other unions have publicly stated that they do not support a Port disruption, the Coalition for Clean & Safe Ports, an environmental agency, released an open statement showing their support for the Occupy movement.
"We are inspired that a non-violent democratic movement that insists on basic economic fairness is capturing the hearts and minds of so many working people. Thank you "99 Percenters" for hearing our call for justice. We are humbled and overwhelmed by recent attention. Normally we are invisible," the environmental organization said on Monday.
Spokespersons for the City of Oakland, Oakland Police Department and the Port of Oakland could not be reached for comment.
Susan Piper, the Special Assistant to the Mayor told Medical Daily that the city anticipates another statement to be released Monday afternoon at 3:15 p.m. local time.
Published by Medicaldaily.com