Ohio Mother Gives Birth To 'Mono Mono' Twins Who Came Out Holding Hands 2 Days Shy Of Mother's Day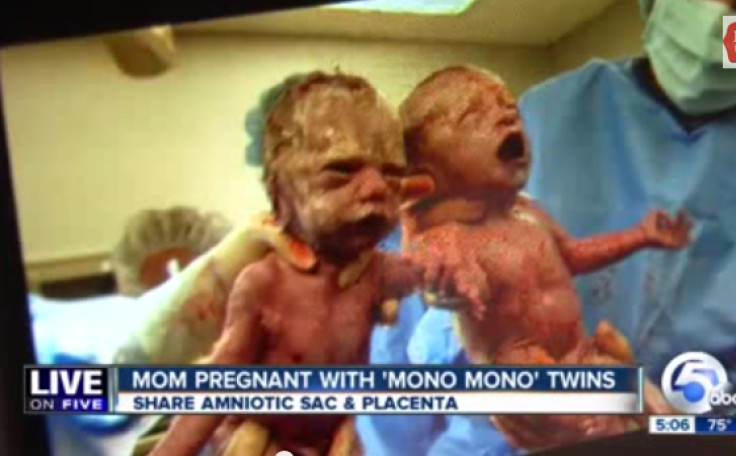 It was an eventful Mother's Day for Sarah Thistlethwaite, to say the least. This past Friday, Thistlethwaite gave birth to twin daughters who shared the same amniotic sac and placenta, also known as monoamniotic or "mono mono" twins. On Sunday, Thistlethwaite and her husband Bill got their first opportunity to hold babies Jillian and Jenna after they were removed from ventilators and allowed to breathe on their own.
"The tech said 'There's 2,'" Sarah said in a statement from Akron Children's Hospital. "My husband said, 'Two what?' The tech said, 'Two babies!' It was very silent in the room. We were all in shock for a while and then we randomly began to laugh. It was a big surprise to us."
The Thistlethwaites first learned they were having twins after their third ultrasound at 19 weeks. Although Sarah and Bill were flooded with excitement over the prospect of twins, they also understood that precautions had to be considered to defend against certain risks that come with a "mono mono" pregnancy. Around one out of every 10,000 births results in monoamniotic twins, making it a fairly rare occurrence. These pregnancies run a severe risk of umbilical cord entanglement, which can cut off blood and cause the death of one of the twins, Akron Beacon Journal reported.
Upon learning their daughters would be monamniotic twins, the couple had a lot of decisions to make and plans to set in place concerning the next couple of months. Dr. Melissa Mancuso from Akron Children's Hospital would be along for every step of the way to help with every tough decision. One of the hardest decisions for Sarah to make was leaving her 15-month-old son Jaxson while she remained on bed rest in the labor and delivery unit at Akron General Medical Center where doctors could keep a close eye on her pregnancy.
"Sarah was given the option to deliver between 32 and 34 weeks gestation," Mancuso said. "This type of twin is at high risk for stillbirth because of cord entanglement. We were just having a discussion about how difficult a decision it is to make, weighing the risk of prematurity vs. the risks of entanglement. She was excited about having her C-section on May 9 because she would be a 'real mother' on Mothers' Day."
Just two days shy of Mother's Day, it was finally time for the birth of Jillian and Jenna. First came Jenna, born weighing 4 lbs. and 2 oz., followed less than minute by Jillian, born 3 lbs., 13 oz. Sarah called her twins "the best Mother's Day present ever." While she is expected to leave the hospital on Tuesday, Jillian and Jenna will remain at Akron Children's Hospital for two to four weeks to ensure there are no problems with their development.
Published by Medicaldaily.com