Ohio Pastor Ernest W. Angley Accused Of Condoning Child Sex Abuse And Forcing Vasectomies, Abortions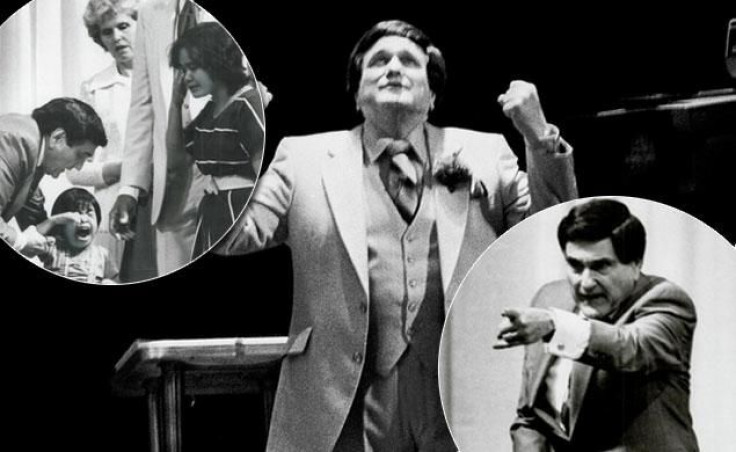 Over 20 of televangelist Ernest W. Angley's former followers have come forth with stunning allegations against the 93-year-old, including the allowance of child molestation and forcing male members to get vasectomies and female members to get abortions. Angley, the leader of a cult-like church in Akron, Ohio, is being described by former members as "a closeted homosexual Jim Jones."
"I'm not a homosexual. God wouldn't use a homosexual like he uses me. He calls me his prophet, and indeed I am," Angley told The Akron Beacon Journal. "They called Jesus a homosexual. Did you know that? And still do. Because he was with men. Oh, Mary Magdalene and a few women. But you can't stop the people's lies."
Former members of the church sat down with the Journal as part of a six-part report to explain how they were pressured into undergoing vasectomies and abortions. One member, Angelia Oborne, even said that her friend in the church was forced to undergo four abortions at Angley's command. Oborne's husband also underwent a vasectomy during his time with the church.
Although Angley claimed that he did not want his followers having children due to "today's evils," former followers said his motives were more self-centered. "He doesn't want people to have kids because it would take their time and money away from (the church)," former member Greg Mulkey told the Journal. "He really forced people into abortions through scare tactics, as if he were a medical doctor. It turns my stomach."
In addition to their right to have children, Angley reportedly controlled every aspect of each follower's life, such as what they could read, watch on TV, and even who they could marry. Angley's followers were required to attend his church services for three to five hours a day, over two times a week.
Two of Angley's former members who got married after leaving the church, Kim and Shane McCabe, claim they were both molested by members of the church's ministry. Shane said that after reporting the abuse to Angley, he was told, "'Let's keep it a secret. This is the way we need to handle it because God's mercy is great.'"
"This man is a monster," said Pam Cable, who left the church in 1988. "He's a monster. And I can't understand why all these years have gone by and nobody's ever really been able to do anything about him. The people in Akron, Ohio, have a Jim Jones sitting in their backyard. ... These people in his congregation would drink the Kool-Aid if he told them to. They would."
Published by Medicaldaily.com