Ohio State Football Player Kosta Karageorge Found Dead In Apparent Suicide: How Concussions May Have Played A Role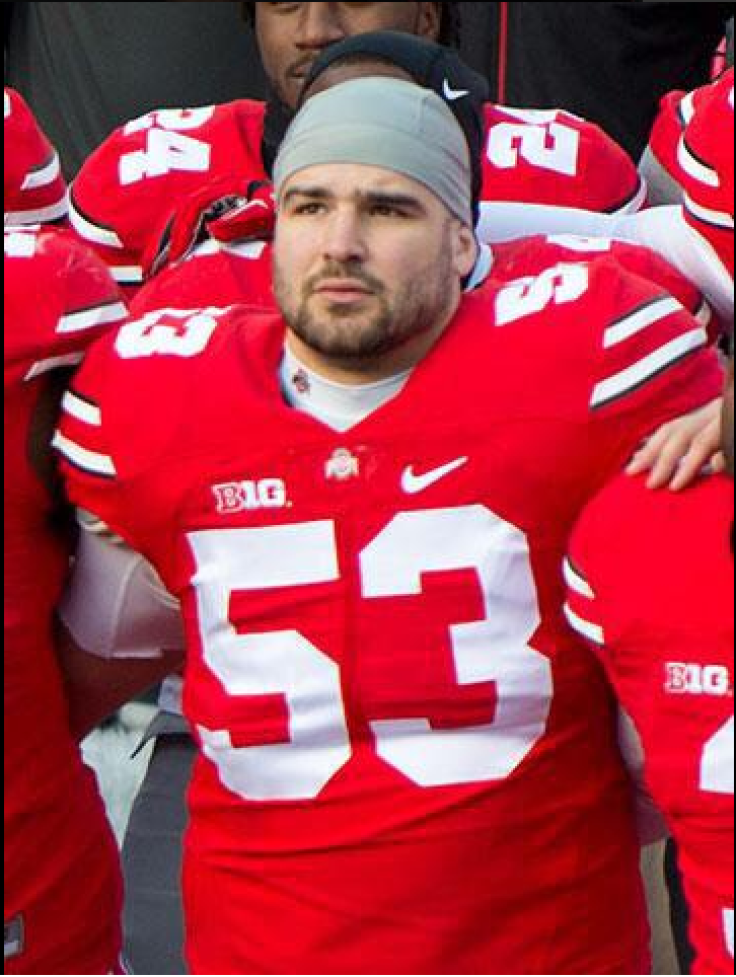 Following a five-day search for missing Ohio State football player Kosta Karageorge, Columbus Police officers confirmed that the 22-year-old was found dead after suffering what appeared to be a self-inflicted gunshot wound. Karageorge, who was reported missing this past Wednesday, sent worrying text messages to his mother asking her to forgive him for being "an embarrassment," and saying that his history with concussions had negatively impacted his mental state.
"The Ohio State University Department of Athletics was shocked and saddened to learn today of the death of student-athlete Kosta Karageorge, a senior from Columbus," OSU said in a statement. "Our thoughts and prayers are with the Karageorge family, and those who knew him, during this most difficult time."
Columbus Police Sgt. Richard Weiner confirmed that Karageorge's body was found in a dumpster just outside the college campus next to a gun this past Sunday. Karageorge's tattoos were used to identify the body. The walk-on OSU defensive tackle and wrestler was set to be honored on senior day during the Buckeyes 42-28 home win against rival Michigan on Saturday. Karageorge's wrestling and football teammates were extremely saddened by the news of his death, including head coach Urban Meyer who called him a "hard worker."
Although the OSU football team's physician, Jim Borchers, declined to comment on the medical care of any students, Karageorge's mother told police that a series of concussions had caused her son to suffer from spells of confusion. "We are confident in our medical procedures and policies to return athletes to participation following injury or illness," Borchers told reporters, according to The Columbus Dispatch.
Karageorge is not the first football player whose apparent suicide has been linked to a history of concussions. Former NFL linebacker Junior Seau, who spent nearly 20 years playing professional football, committed suicide in 2012 after a series of concussions he sustained during his playing days. An autopsy performed after his death revealed that Seau had been suffering from chronic traumatic encephalopathy (CTE), a neurodegenerative disorder often found among athletes with a history of traumatic brain injuries.
Repetitive brain trauma, such as multiple concussions, can trigger a progressive degeneration of brain tissue in athletes competing in contact sports like football or boxing. Changes in the brain, including the build-up of an abnormal protein known as tau, can begin months, years, or even decades after the athlete's last concussion. CTE has been linked to memory loss, confusion, impaired judgment, paranoia, impulse-control problems, aggression, dementia, and depression.
Experts are currently looking into diagnosing CTE in living people, but currently, it can only be diagnosed definitively through post-mortem examination of the brain. Columbus police are expected to release a complete report on the tragic loss of Karageorge later this week.
Published by Medicaldaily.com