Oklahoma Tornadoes Claim 9 Children From Moore Elementary Schools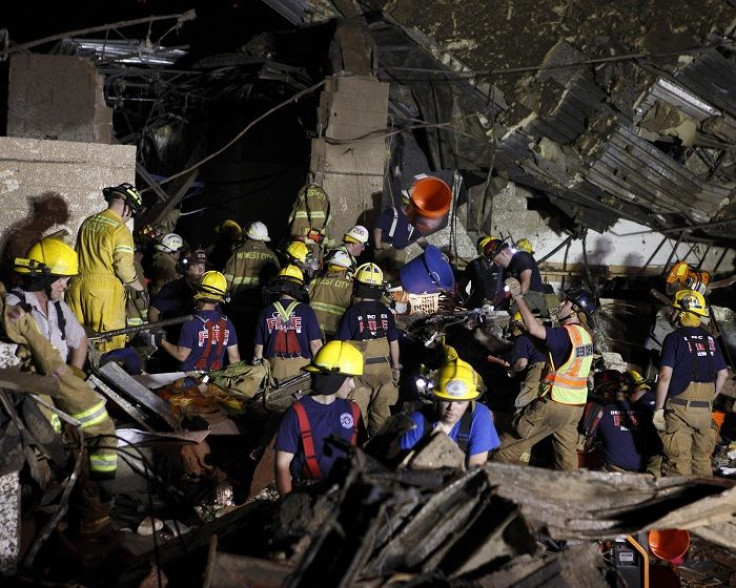 When a two-mile wide tornado ripped through the suburbs of Oklahoma City on Monday, families were devastated to find that their own children went missing, or worse, were dead. The tornado made landfall only moments before students were heading home after the last week of classes before summer break.
Medical examiners confirmed the next morning that 24 people in Oklahoma City were killed, including nine children. Horrifying scenes were witnessed at the local schools that were once a safe haven and a home away from home.
The Plaza Towers Elementary School is located on the west side of Moore and south of Oklahoma City, and Briarwood Elementary is along the same side of town. Both schools were directly in the path of the tornado. The storm held a 45-minute reign and flattened the Plaza school building on Monday afternoon, sending parents on a search for their sons and daughters among the rubble.
While no fatalities were reported from Briarwood, images show teachers frantically clutching and carrying their children out of the school, bloodied and bruised, and providing what little protection they had left with their arms.
But the worst had yet to be discovered at Plaza. Parents' hearts dropped when seven of their own children were found drowned after pipes burst underneath the rubble. Rescuers are in search of more children that are still missing.
Nine-year-old Janae Hornsby is among the 24 children. Her father, an Iraq veteran, sent out pictures of Hornsby who "always has a smile on her face."
Other stories ended in joyful reunions.
"If our school is crushed, my house is like directly behind the pond and so I think it might be crushed, too," Josiah Parker, 8, from Briarwood told ABC news. "If my mom and dad are still alive, they're probably going to take us to a hotel," he added.
Parker fled the school building without getting hurt and was able to reunite with his parents after a long search.
At least sixty more children are among the 240 people who are injured, according to New York Daily News.
Parents and families took to Facebook and created "Found Children from the 2013 Tornado in Moore, Oklahoma" to keep the nation in the loop and in hopes of reuniting parents with their kids.
Another student from one of the Moore schools, by the name of Sam Adams, has his photo propped on the page by his mother's best friend.
"We can't find any info on him and she can't get a hold of his dad," Miranda Stephens-Sappington wrote, "If you are a parent then you can only imagine how scary this can be. I'm hoping this gets to anyone in that area that can help her out. Please share this until she hears that he's safe. I can't do much [because] they aren't letting people into Moore but I can do this for her family."
Sydney Angle's is another little girl from Moore. Families and friends have provided their direct contact information and numbers in hopes of reuniting her with her parents, Dan and Nicole Angle.
President Barack Obama spoke with Oklahoma Gov. Mary Fallin on Tuesday in support of sending federal aid, as well as state and local efforts to support the families.
"Our gratitude is with the teachers who gave their all to shield their children; with the neighbors, first responders, and emergency personnel who raced to help as soon as the tornado passed; and with all of those who, as darkness fell, searched for survivors through the night," the President said.
"As a nation, our full focus right now is on the urgent work of rescue, and the hard work of recovery and rebuilding that lies ahead."
Published by Medicaldaily.com