Once Deaf Finn Johnson Says First Word, 'Mum,' 14 Months After Receiving Auditory Brainstem Implant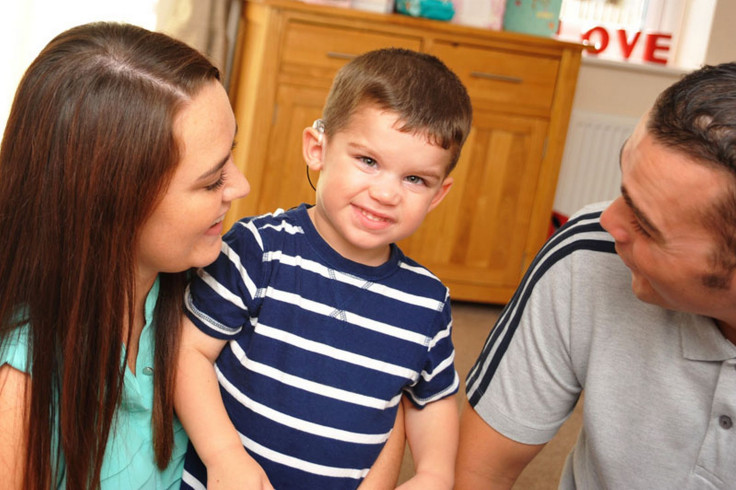 Auditory brainstem implants are considered pioneering technology. They allow people with no functioning auditory nerve to hear again by implanting electrodes directly onto the brainstem. Now, once deaf two-year-old Finn Johnson, one of the youngest people to ever get the implant, has said his first word, "mum."
Finn was diagnosed with auditory neuropathy spectrum disorder when he was born in January 2011. The disorder causes sound to get lost during transmission from the inner ear to the brain. While someone with the disorder may have mild to severe hearing loss, he or she always has poor speech-perception abilities — oftentimes worse than would be predicted by the amount of hearing loss.
There are few medical centers that offer auditory brainstem implants. Finn underwent surgery in Italy a little over a year ago, after his parents raised £40,000 ($62,292) in donations for the operation, which isn't covered under Britain's National Health Service (NHS), according to the Daily Mail. Within a month of surgery, he was able to hear his parent's voices; however, only recently did he speak his first word.
"Finn is doing really well now. He's just said his first word, 'mam' and we've videoed it! It's wonderful!" his mother, Natalie Nixon, told the Evening Gazette. (You can watch the video here.)
Finn's journey is nowhere near finished. He still needs intensive speech therapy, which his family is hoping to get in the U.S. They recently held a fundraiser at his daycare, Little Ladybirds Day Nursery, and received about £1,000 ($1,557) by baking cakes and painting portraits, and selling them to their parents.
"We're so grateful for all the people who have contributed to his fund," Nixon told the Evening Gazette. "We now intend to use funds to take Finn to the John Tracy Clinic in America, possibly next year or the year after, for intensive speech therapy in their summertime program."
The nursery's manager, Catherin Mason, said that Finn is a popular boy there, and thanked "all those who supported such a worthwhile cause."
You can follow Finn's journey at www.thefightforfinn.co.uk.
Published by Medicaldaily.com