Opiod Overdose While Driving: Police Show Photos of Couple With Child To Show The 'Other Side' Of Drug Use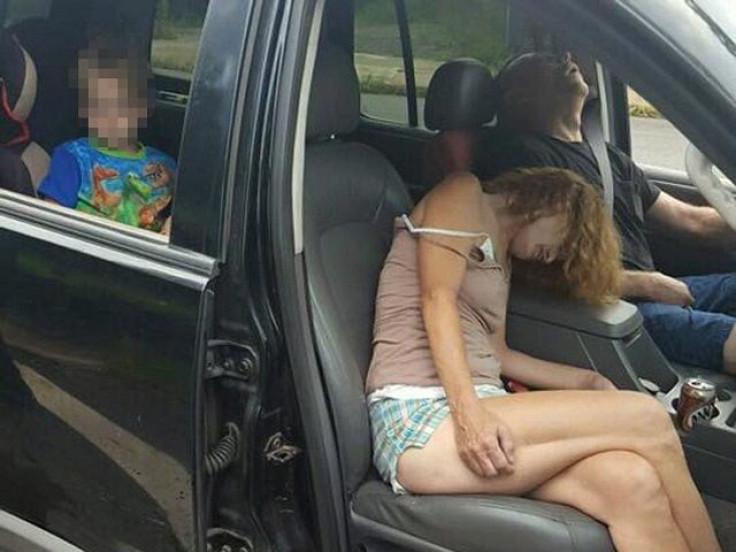 It's a pair of shocking photos that Ohio law enforcement officials are hoping can send a powerful message as part of their anti-heroin initiative.
On September 8, the police department of East Liverpool, Ohio — with the blessing of the city's law director — released the incident report of an arrest made the day before, along with two photos, on the city's official Facebook page. The photos showed the alleged suspects, 47-year-old James Acord and 50-year-old Rhonda Pasek, passed out in a car with a four-year-old boy, later identified as Pasek's son, in the backseat, both under the effects of an opioid overdose.
"We feel it necessary to show the other side of this horrible drug," read the post. "We feel we need to be a voice for the children caught up in this horrible mess. This child can't speak for himself but we are hopeful his story can convince another user to think twice about injecting this poison while having a child in their custody."
After being pulled over for erratic driving, Acord had reportedly told the officer, Kevin Thompson, that he was driving Pasek to the hospital, despite his speech being "almost unintelligible" and his head constantly "bobbing back and forth." He then tried to shift the car into drive, only to have Thompson reach in and take away the keys. Soon afterwards, Acord fell unconscious himself, and Thompson called for an ambulance while attempting to keep Pasek's airway open as she began turning blue. Eventually, emergency medical services personnel arrived and were able to revive both with Narcan, a medication commonly used to reverse the worst effects of an opioid overdose and prevent death.
After receiving further medical attention at a nearby hospital, the pair was formally arrested — Pasek for endangering a child, not wearing a seatbelt, and public intoxication and Acord for operating a vehicle while impaired, endangering a child, and slowing in a roadway. A pink powdery substance was also found under the passenger seat and sent to the department's crime lab for further analysis.
Despite the criticism the post has gotten, including from some commentators who have wondered why the child's identity wasn't obscured in the original photos at least, the East Liverpool police department appears to have stuck to their guns.
"It'll get him the help that he needs, get him out of that environment and get him where he needs to be — in a safe environment, in a loving environment," said East Liverpool Police Chief John Lane of the boy in an interview with CNN.
The boy was taken away by police and met with Columbiana County Children's Services following the arrest. According to the city's Facebook page, an original court order for Acord's sister and brother-in-law to take temporary custody of the boy was overturned Friday. It is believed that the boy is currently staying with a neighbor, according to WTOV9.
Published by Medicaldaily.com