Oregon Ducks Raise Breast Cancer Awareness By Wearing Pink Helmets; Football Teams Add Pink To Their Apparel This Season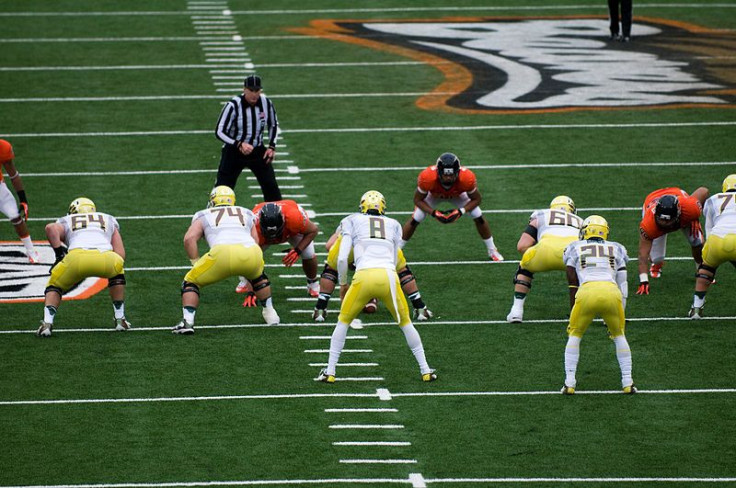 The Oregon Ducks plan on wearing pink cleats, socks, gloves and helmets for their game against Washington State on Saturday to raise awareness about women's cancers, particularly breast cancer, in light of October being National Breast Cancer Awareness Month.
Nike designed the sleek, pink-accentuated outfits that will raise money for the Kay Yow Cancer Fund. Kay Yow was a former North Carolina State University basketball coach who died from breast cancer in 2009, after battling the disease for over 20 years.
"Coach Yow knew that if motivated coaches, their student-athletes and a dedicated community came together, they could enact meaningful change on and off the playing field," Sue Donohoe, executive director of the Kay Yow Cancer Fund, told the team's official website. "The collaboration between Nike, the University of Oregon and the Kay Yow Cancer Fund exemplifies this spirit of teamwork and generosity."
Breast cancer may be the most well-known type of women's cancer, but others include cervical, endometrial, ovarian, and vaginal cancers. Approximately 39,620 women have died from breast cancer this year, according to the National Cancer Institute at the National Institutes of Health.
The National Football League (NFL) will be supporting cancer research and breast cancer awareness throughout October through their "A Crucial Catch" campaign, which emphasizes the importance of annual screenings for women over age 40. The NFL has also partnered with the Zeta Tau Alpha Foundation to distribute the iconic breast cancer pink ribbons at football games.
This week, the Pittsburgh Steelers will also "think pink" by adding pink apparel to their outfits for their game against the Baltimore Ravens.
"There are not many people that haven't been touched by someone they know who has suffered through the disease," Steelers President Art Rooney II told the official Steelers website. "In a relatively short amount of time we have been able to make a difference. Now you see it at different levels, high school and college football, wearing pink and it's become a national effort that everyone comes together and gets involved in."
Other teams participating in breast cancer awareness efforts include the Arizona Cardinals, the Chicago Bears, the Buffalo Bills and the New York Jets.
"Cancer has touched so many lives and hopefully, together with Nike and the Kay Yow Cancer Fund, we can help create awareness and help raise money for the fight against women's cancers," Oregon Ducks head coach Mark Helfrich told the team's website.
Nike and the University of Oregon will auction off a limited number of the pink helmets to contribute to the fundraising.
"It is an honor to join Coach Yow's team in a fight that unites us all," Helfrich wrote.
Published by Medicaldaily.com