Osmosis Is The App That Manages Med School For You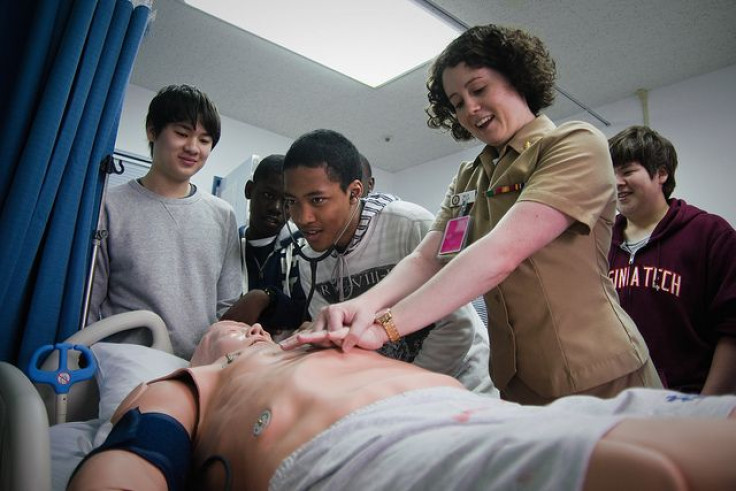 You made your dream come true and now you're in Med School, and though you are thrilled and challenged and most definitely on your way, one massive problem occupies too much of your precious gray matter. Your complaint is this: You are spending too much time wading through texts, published studies, and other materials, gleaning content and assembling appropriate questions, instead of actually studying the material itself. But then you discovered (cue harp music and a chorus of synthesized voices) Osmosis.
This app essentially manages your learning for you, by organizing a personal educational experience based on your med school coursework. This means you can devote more time to studying the actual information you need to know instead of, well, sorting through endless pages trying to figure out where to begin.
"We got a grant from the Robert Wood Johnson Foundation to develop the largest database of open medical education resources," explains co-founder Shiv Gaglani, who spoke to Medical Daily at the World Innovations Summit for Health 2015 in Qatar. "We've already developed 4,000 practice questions that are licensed under Creative Commons, which anyone will be able to access."
Osmosis works like this: A subscriber — there are 20,000 med students using the app right now — uploads a document, and then the program uses machine learning to "read" the document (whether one page or a hundred pages long). From there, the program recommends pertinent study questions which have been crowdsourced from a team of 150 medical students, residents, and physicians (who were dutifully paid on a per question basis). Next, a student can choose practice questions where the program poses a test case to be diagnosed in the following manner: "A 39-year-old female patient presents with a rash on her neck and a temperature two degrees above normal…"
As co-founder Ryan Haynes explained, Osmosis "bridges the gap" between lecture slides and becoming an actual doctor. "Right now, what we're trying to do is teach students better," he told Medical Daily, and so Osmosis really is a behavior change app. "But a lot of problems in medicine are actually behavior change issues, such as getting a patient to adhere to a drug regimen or exercise to prevent diabetes," he said, adding he thinks this rounds out his own education nicely.
Democratizing Med School
While the crowd-sourcing aspect intrigues some subscribers, others find the learning theory aspect most fascinating. After all, the program essentially does all the work of breaking down a text, applying critical thinking, and gleaning the need-to-know facts and information from it. Currently, the app provides study questions and test cases and works with documents fed to it by students. In the future, though, if permissions are given, legal hurdles cleared, the app might offer an entire medical school curriculum.
"If these professors put their content and make it open so that other people can access it, we could eventually crowdsource the medical education curriculum," says Gaglani. "Whether it's a med student at Botswana or at Harvard Med, they'll have equal access to it." This means, then, medical knowledge could be shared around the entire world via a simple app! (Cue harp music and a chorus of synthesized voices.)
Published by Medicaldaily.com