Overweight Teen Believes Her Instagram Account Was Temporarily Removed Because Of Size Discrimination
Thanks to Instagram, we all have the inalienable right to share photos of ourselves in nothing but our underwear. Samm Newman, 19, like many other individuals today, regularly exercised this right up until she received a notice that her account had been discontinued. The teen believes the real reason for her account's deletion has more to do with discrimination of her size-24 figure and less to do with the company's "occasional mistake."
Size Discrimination?
Newman uploaded many photos of herself onto the photo-sharing smartphone app, but it's a particular photo of her wearing nothing but a bra and a pair of boy shorts that caused her account to be taken down, Nbc4i reported. Instagram claimed her account was removed because she violated the company's rule on "what not to do" by sharing photos that showed nudity or mature content. Newman calls this size discrimination, claiming that she was targeted for her plus-size waistline. "I didn't find them or the bra at all inappropriate. They covered me entirely and I've seen pictures like that all over Instagram," Newman explained to Nbc4i.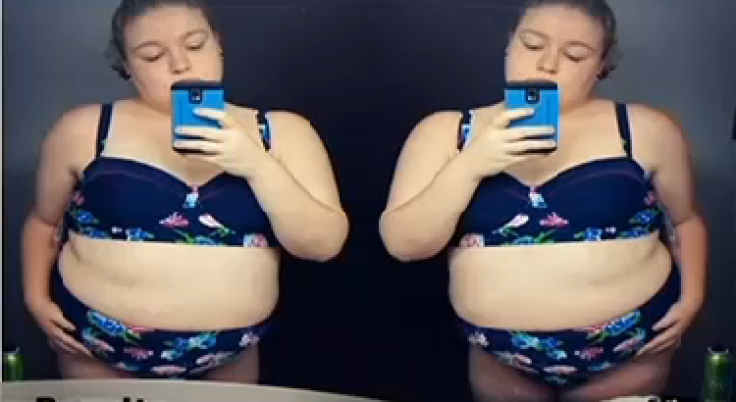 Instagram: 'We Made A Mistake'
Instagram has since reinstated Newman's account and apologized for what they referred to as "a mistake," and "wrongly removed content." Instagram told NBC4 they are currently "looking into" why Newman's account was removed but have still not provided an exact reason. Still, only half the battle is over for Newman, who hopes to raise awareness on fat-shaming and size discrimination. "Fat is not a bad word," she told NBC. "How confident can you be if you keep censoring yourself because people don't want to look at you? I'm going to make a difference in the world, regardless of whether Instagram cooperates or not."
Fat-Shaming Happens On An Average Of Three Times Every Day
A study from Western New England University found that overweight or obese women get fat-shamed an average of three times per day, the Daily Mail reported. A total of 1,077 overweight and obese women were asked to keep a daily diary for a week; 74 percent recorded hearing nasty comments from others, 72 percent wrote of being stared at, and an unsettling 12 percent recorded they were physically attacked. "Teenagers made animal sounds outside the store," wrote one of the volunteers, while another explained how "the dentist was worried I might break his chair." According to the study, "Emerging data indicate that weight stigma may have negative health consequences such as binge eating, reduced weight loss success, and diminished personal exercise and dietary health."
NBC4: Columbus, Ohio News, Weather, and Sports (WCMH-TV)
Published by Medicaldaily.com