Oxytocin Helps Women Recover From Pain After Delivery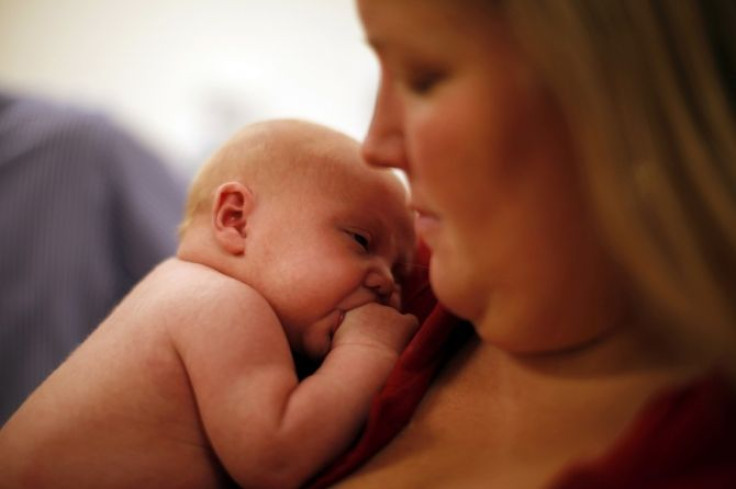 Oxytocin helps women recover from chronic pain after childbirth, says new research published in the journal Anesthesiology.
Oxytocin is also called a bliss hormone. Animal studies have shown that this hormone plays an important role in keeping mating pairs together. This hormone helps establish lasting relationships and reduces fear.
Delivery, either vaginal or cesarean, carries a risk of physical injury that can be a risk factor for chronic pain. However studies show that chronic pain post delivery is remarkably rare. Researchers from Wake Forest School of Medicine, Winston-Salem, N.C., found that certain biological changes in women lower chances of chronic pain after delivery.
Two studies were conducted to understand chronic pain from delivery. The first study included 1,228 women who were interviewed within 36 hours of the delivery.
"The study suggests there may be a protecting mechanism that is active around the time of childbirth to prevent chronic pain from physical injury," said James C. Eisenach, M.D., from Wake Forest Baptist Medical Center.
Chronic pain, 12 months after delivery was very rare. Just 1.8 percent of women had pain after 6 months and only 0.3 percent had pain after 12 months.
The second was conducted on rats to understand the mechanism involved in reducing pain after childbirth. Researchers injected these rates with either oxytocin, atosiban (an antagonist of oxytocin, a hormone that is important during and after childbirth) or naloxone (an opioid receptor blocker).
Study results showed that levels of oxytocin were high immediately after delivery. Oxytocin antagonist, atosiban reduced recovery from pain but not the opioid antagonist, naloxone. Rapid recovery from pain was blocked if the pups were weaned from the mother.
"In our accompanying lab study, we analyzed the sources of this natural protection in hopes we may be able to develop treatments to prevent chronic pain from happening after other types of trauma or surgery, similar to vaccines to prevent infectious diseases," Eisenach, also editor-in-chief of Anesthesiology, told HealthDay.
Published by Medicaldaily.com