Pan-Fried Meat Not Only High in Calories, Also Increases the Risk of Prostate Cancer By 40 Percent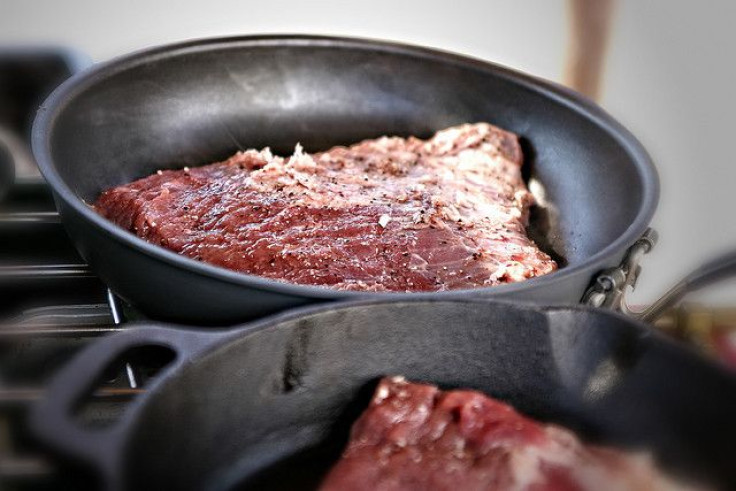 Health experts are consistently warning about the numerous health risks that result from eating fried foods. Not only are they high in calories, but also in saturated and/or trans-fat, which can increase your chances of coronary heart disease. More recently studies demonstrate pan-fried red meat can also increase the risk of advance prostate cancer by nearly 40 percent.
A study conducted by researchers from the University of Southern California (USC) and the Cancer Prevention Institute of California (CPIC), found that when red meats are cooked at high temperatures, potent carcinogens are formed, which increases the risk of prostate cancer.
Lead study author Mariana Stern, associate professor of preventive medicine at the Keck School of Medicine of USC, alongside a team of researchers observed a pooled data of nearly 2,000 men who participated in the California Collaborative Prostate Cancer Study, a multiethnic, case-control study conducted in San Francisco Bay Area. Within the study participants completed a questionnaire that assessed the amount and type of meat consumed, including poultry and processed red meat. Researchers also obtained information regarding how the meat and poultry were prepared using color photographs that displayed level of doneness. Of the participants more than 1,000 were diagnosed with advance prostate cancer.
"We found that men who ate more than 1.5 servings of pan-fried red meat per week increased their risk of advanced prostate cancer by 30 percent," Stern said. "In addition, men who ate more than 2.5 servings of red meat cooked at high temperatures were 40 percent more likely to have advanced prostate cancer."
Of the meats, different types of red meats were linked to an increase risk of prostate cancer, especially among Hispanic men. According to Stern, the risk of prostate cancer was a result of the different levels of carcinogen that were released.
The research also demonstrated men who consumed high levels of baked poultry, preserved a lower level of being diagnosed with advanced prostate cancer, compared to those who consumed pan-fried poultry. Pan-fried food, regardless of the type of meat used, consistently led to an increased risk of prostate cancer.
Researchers are unsure why consumption of pan-fried food increases the risk of being diagnosed with advanced prostate cancer, but they propose it is because of the formation of DNA-damaging carcinogens—heterocyclic amines (HCAs)—that are released during preparation of red meat and poultry.
"The observations from this study alone are not enough to make any health recommendations, but given the few modifiable risk factors known for prostate cancer, the understanding of dietary factors and cooking methods are of high public health relevance," Stern said.
Published by Medicaldaily.com