Paralyzed Bride Amazes Friends And Family By Ditching Wheelchair, Walking Down The Aisle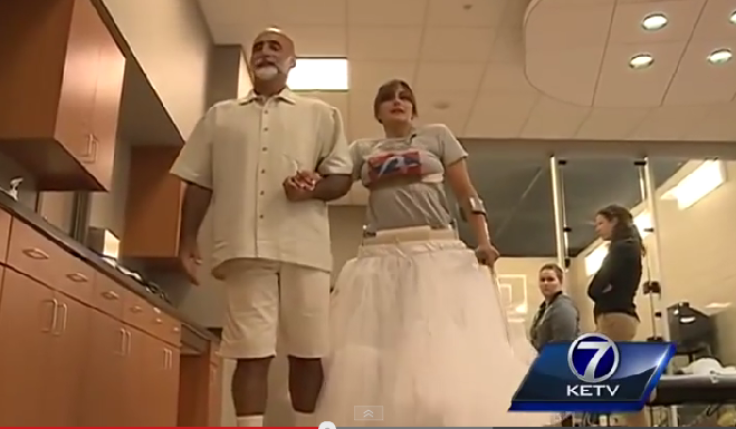 Telling Gina Giaffoglione she can't do something is a one-way ticket to being proven wrong. Giaffoglione, who was paralyzed from the waist down following a horrific car crash a few years back, knew how she wanted to make her way down the aisle of her upcoming wedding — and that was on her own two feet. After a year and a half of wedding planning, as well as physical therapy at CHI Health Rehabilitation Center, the determined bride-to-be stunned friends and family by walking hand in hand with her father down the aisle to her wedding ceremony.
"When you can't feel anything, and you're doing something you used to do that you used to take for granted — because I did, everybody does. When you're back up and doing it, especially having dad on my arm, it's a floating sensation you can't even explain," Giaffoglione told KETV. "It's not even about the walking; your emotions are floating. Everything just seems to feel so good at that moment."
Giaffoglione's now-husband John Springhower was a little surprised after being told she intended to walk down the aisle, but he quickly remembered it was that determination that first caught his eye. Following over a year's worth of work with Diana Palm, her physical therapist at CHI Health Rehabilitation, Giaffoglione was fitted with a custom back brace that she would wear under her wedding dress. Since Giaffoglione is her father's only daughter, she knew walking down the aisle was just as important to him as it was to her.
"I told her, 'Whether we roll down that aisle or whether we walk down that aisle, we're going to do this,'" said Gina's father, Gary Giaffoglione. "It's been her dream. Obviously, it's a dad's dream of having the honor of walking your daughter down the aisle."
Leading up to the wedding, Giaffoglione's father, fiancé, and immediate family were the only people in on her decision to walk down the aisle. The tearful reaction of her wedding guests made that very clear.
Published by Medicaldaily.com