Paralyzed Bridesmaid, Mackenzie Gorden, Re-Learned How To Walk For Sister's Wedding [VIDEO]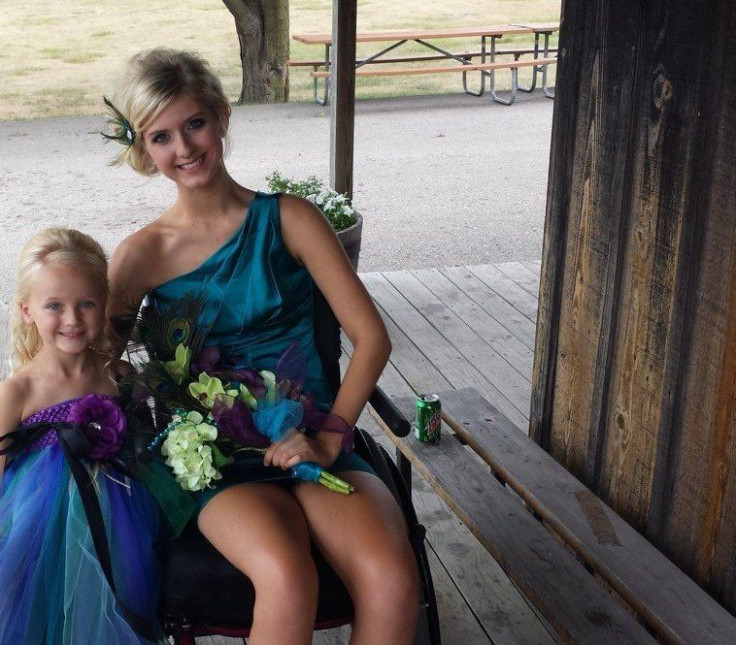 When Mackenzie Gorden, 18, broke her neck last year in a car crash, doctors held out little hope that she would ever be able to stand on her own two feet again. Last month, the paralyzed bridesmaid defied the odds stacked against her by not only standing, but also walking down the aisle at her sister's wedding in a ceremony her family will remember for quite some time.
"I never accepted that I couldn't walk again," Mackenzie told the Denver Post. "If I don't want to be in the chair, I've got to do something myself to get out of it."
Back in June 4, 2012, Mackenzie was driving home from a boyfriend's house when a deer suddenly made its way across the road. She turned the wheel to avoid the animal, which caused a massive car accident that wasn't discovered until two hours later. Doctors would soon learn that her C5/C6 vertebrae were fractured, causing extensive spinal cord damage.
After surgery at St. Mary's Hospital in Minnesota to stabilize her C4 through C7 vertebrae, Mackenzie began to regain simple functions such as moving her fingers and eating on her own. Following six weeks of rehabilitation, she was flown to The Craig Hospital in Colorado where she would begin an innovative therapeutic treatment that would produce miraculous results.
Known as "locomotor" training, this activity-based therapy is used to recover the walking movement lost by someone who has suffered a spinal cord injury. The patient's weight is supported by a harness while his or her limbs and joints are stretched to recreate the walking motion. Over time, the spinal cord is able to control the movement the brain used to control, the Daily Mail reports.
Fast forward a little over a year to last September when the family was getting ready for Brittanie Gorden's wedding day. Accompanied by her brother and future brother-in-law's best man, Mackenzie made her way down the aisle to meet her sister and other bridesmaids at the altar. Brittanie was more than happy to share the spotlight with Mackenzie on her big day.
Today, Mackenzie hopes to fulfill a second wish by entering medical school to become a nurse. The Gorden family is also asking for any donations to help fund her extensive medical bills that have accumulated in the months following her accident. Anyone looking to donate should visit the Believe In Mackenzie account on Fundly.
Published by Medicaldaily.com