Paralyzed Woman Walks Again Thanks To 'Ekso-Suit,' 3D Printed Exoskeleton [VIDEO]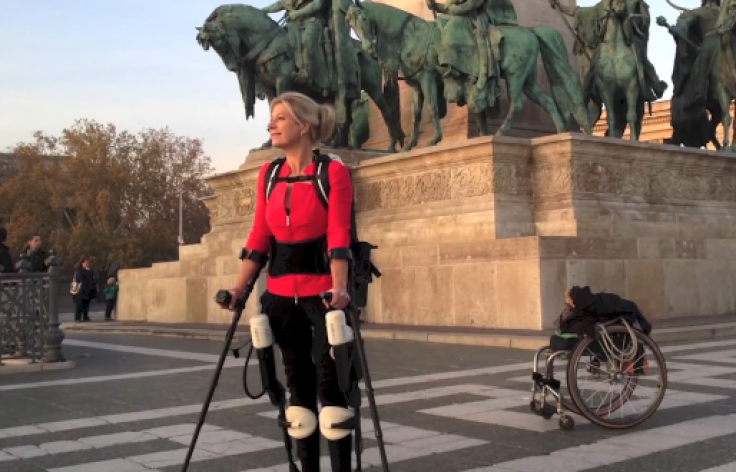 More than a decade after doctors said she would never walk again, Amanda Boxtel is walking again, thanks to a robotic suit 3D printed from customized scans.
Developers 3D Systems and EksoBionics first announced the so-called Ekso-suit exoskeleton at the Singularity University Summit Europe in Budapest last November. Boxtel, who was paralyzed from the waist down after a skiing accident in 1992, currently serves as the innovation's first test pilot. "After years of dreaming about it, I am deeply grateful and thrilled to be making history by walking tall in the first ever 3D-printed Ekso-Suit, made specifically for me," she said in a press release. "This project represents the triumph of human creativity and technology that converged to restore my authentic functionality in a stunningly beautiful, fashionable, and organic design."
Judging by the unit's technical standards, Boxtel's praise seems warranted: The Ekso-suit is modeled on precise measurements obtained via meticulous 3D scanning. Her thighs, shins, and spine have all been digitized to achieve a perfect fit. For the first time in more than 10 years, she is able to get around without her wheelchair.
Avi Reichental of 3D Systems told reporters that, with 3D printing, assistive technology can move toward a more natural design. "I believe that the most beautiful and functional designs have already been patented by nature, and inspired by Amanda's incredible spirit, we were able to harness nature's beauty with 3D-printed functionality and freedom of creation to allow her body and spirit to soar," he told reporters.
The announcement comes less than a month after EPFL's bionic hand — a breakthrough prosthesis that restores tactile sensation to lower limb amputees. By interpreting and encoding nerve signals in the upper arm, the unit allows a user to feel objects in real-time. "The sensory feedback was incredible," said pilot user Dennis Aabo Sørensen.
Check out the video below to see the Ekso-suit in action:
Published by Medicaldaily.com