Parenting Styles For The Modern Parent: 7 Parenting Apps That Will Make Your Life Easier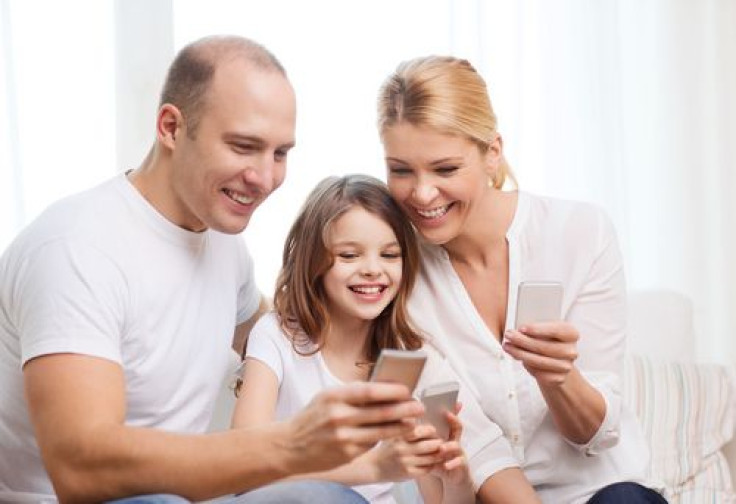 Whether you're a first-time parent, or an experienced parent, one thing all parents can agree on is that parenting is never easy. Although modern technology can sometimes cause a barrier between kids and parents, it can also help frazzled moms and dads cope with the most common parenting woes. Parents, breathe a sigh of relief by using your smartphone as a parenting tool with these seven apps that provide you with tips on how to maximize your time while keeping track of your child inside and outside the home.
1. Baby Monitor & Alarm
Turn your smartphone into an easy-to-use baby monitor with the Baby Monitor & Alarm app that allows you to sneak in a nap while your newborn is napping, too. Parents can set up the phone alert function that will notify you by a phone call to another phone when there is noise in the baby's room. With just the click of a button, parents can set the phone number of the second phone and press Start to monitor their baby's sleep while stepping away to another room. The app also doubles as a lullaby and can either play the "Mommy's Voice" function to lure the baby back to sleep, or play their favorite lullaby or fairy tale using "Sweet Dreams."
Price: $2.99 iPhone and Android app
2. Baby Connect
The stress of parenting can cause even the most astute of parents to lose track of how much food, sleep, medication, and bathroom trips their child had in one day. To capture everything from milestones to your baby's temperature, Baby Connect allows you to instantly view daily summary, statistics, and graphs that help you identify trends and anomalies in your baby's eating habits. The web interface even allows parents to authenticate others to contribute to the tool to easily exchange messages via application, such as Child Care staff.
Price: Free iPhone and Android app
3. MamaBear
Allowing your child to visit a friend or play outside for the first time can be a nerve-wracking experience for all parents. To reinforce positive parenting, the MamaBear app allows parents to see their kids on a map and get alerted when they arrive or leave the places they have set on their device. The app goes a step further and alerts parents when their child is being tagged in a photo, uses bad language, or is being bullied online. If you have a teen who drives, you can even find out when they're driving or riding faster than the pre-set limit you set.
Price: Free iPhone and Android app
4. Sex Offender Search
Keep your entire family protected by finding out where sex offenders are in your neighborhood with the Sex Offender Search app that delivers the most up-to-date information from the National Sex Offender Registry. The app can help you scope out an area for those days when the kids are out on a field trip or at a friend's house in a nearby neighborhood. Parents can also subscribe to monthly offender report emails that notify them of any new activity in the area, and they can easily opt out of this extra feature at any time.
Price: Free iPhone and Android app
5. Red Rover
Play dates don't have to be limited to your neighbor's kids or your child's friends at school. Parents can take advantage of social networks to plan get-togethers on-the-go. Red Rover allows parents to set up last-minute play dates for their kids by posting announcements via Twitter or Facebook to have some kid-friendly fun on the run. App users can share photos, comments, and future plans either publicly or privately with the app. Parents can also use an Emergency Tab that prompts a 911 call that will send a text to the emergency contacts pre-set by you in the app.
Price: Free iPhone and Android app
6. ChoreMonster
Every parent will at one point or another attest to their child refusing to do chores around the house. Get your child to become eager about assuming more responsibilities around the house with the ChoreMonster app that turns mundane chores into a fun game. Parents can create schedules and decide the points system for their kids from hugs to special trips. Kids can sign into the ChoreMonster mobile or web app to see their chores for the day, and review all the possible rewards they can get and how much they'll need to save to get them.
Price: Free iPhone app
7. Food On The Table
If you're a full-time working parent who also has to prepare dinner after work, planning weekly meals for the family could be a stressful endeavor. The Food On The Table app assists the everyday working parent to have a weekly meal plan for their family using chef-approved recipes and their preferences. The planner will recommend daily meals and accompany grocery lists based on where you shop, the items on sale, and your family's food preferences.
Price: Free iPhone and Android app
These seven parenting apps will make your life easier and will allow you to breathe a sigh of relief amid the most common parenting woes.
Published by Medicaldaily.com