Store-Bought Parmesan Cheese Contains Sketchy Ingredients Like Cellulose, Filler Made From Wood Pulp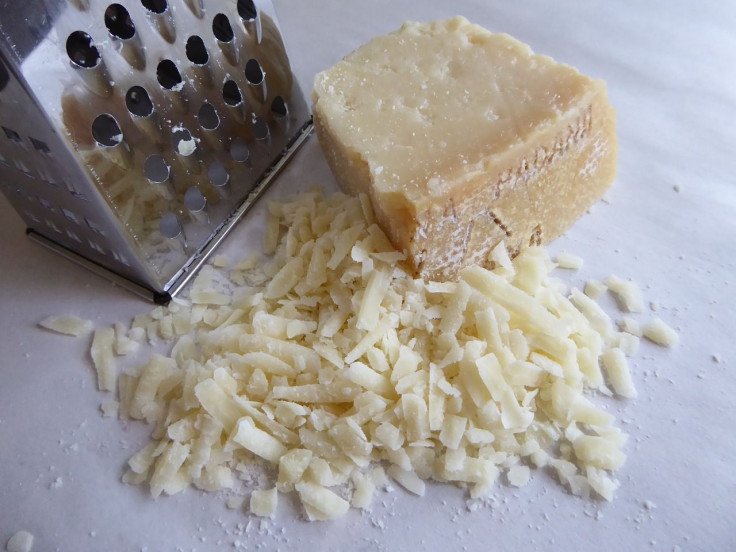 Imitation is the sincerest form of flattery — just not when it comes to cheese.
Back in 2013, the U.S. Food and Drug Administration found evidence that Parmesan cheese products from Castle Cheese, Inc., a cheese factory based in Pennsylvania, did not contain any Parmesan. Instead, it found cellulose and a mixture of lower-quality cheeses, like Swiss, Mozzarella, and white Cheddar in the products sold to major retailers: Target's Market Pantry brand 100% grated Parmesan Cheese (though Target claims Castle has never been an authorized vendor); Always Save Grated Parmesan Cheese; and Best Choice 100% Grated Parmesan Cheese. Cellulose is filler obtained from wood pulp and cotton, and is mainly used to make paper and paperboard.
So what's it doing in cheese? Dean Sommer, a cheese technologist at the Center for Dairy Research in Madison, Wis., told Bloomberg News that "an acceptable level" is considered safe for consumption, between 2 and 4 percent. In Parmesan specifically, cellulose powder can help prevent the cheese from caking inside the package. But when Bloomberg hired an independent laboratory to test for cellulose in other store-bought Parmesan cheeses, it found more than the acceptable amount.
Per the lab's findings, Jewel-Osco's Essential Everyday 100% Grated Parmesan Cheese was 8.8 percent cellulose; Wal-Mart Stores Inc.'s Great Value 100% Grated Parmesan Cheese contained 7.8 percent; Whole Foods 365 brand contained 0.3 percent; and Kraft contained 3.8 percent. What's more is Missouri-based cheese maker DairiConcepts found only one-third of the 28 brands it tested for label claims about protein levels in grated parmesan were accurate, Bloomberg reported; it blames fillers, like cellulose.
Spokesmen for Jewel-Osco, Wal-Mart, and Whole Foods told Bloomberg they were going to investigate the matter further, with Whole Foods in particular suggesting its low levels could be a false positive.
Bloomberg reported that until recently, there's been little incentive for cheese makers to follow labeling rules, citing a recent complaint filed against McDonald's for their "pure mozzarella sticks" that allegedly contain starch, another popular filler. Criminal charges are rare, but Castle president Michelle Myrter is expected to plead guilty to criminal charges over her company's doctored Parmesan this month; she could get a year in prison and a $100,000 fine.
There's no mention of cellulose in the FDA's requirements for specific standardized cheese and related products; in this case Parmesan and Parmesan-Reggiano. It does, however, mention up to 0.02 percent of sufficient rennet can be added to help set the milk used to make the cheese.
With that in mind, Parmesan lovers can feel confident cheese bearing the Parmigiano-Reggiano label is real Parmesan — products have to meet certain requirements before they are branded with the label. Parmigiano-Reggiano products are also only allowed to contain milk, salt, and rennet.
Published by Medicaldaily.com