Dr. Madonna Fabian of Wellness Together on the Perfect Match of Liquivida IV Therapy and Integrative Medicine
This article uses affiliate links, which means if you purchase products through these links, we may earn a commission. Click here to see our
T&C
.
Dr. Madonna Fabian, the owner of Wellness Together in Michigan, understands the role that good nutrition plays in the body's overall well-being.
Growing up, Fabian was active in multiple sports. She says her mother would cook nutritious foods with lots of heart-healthy ingredients to keep her strong and energetic. When she felt like she was getting sick, Fabian says her mother knew which foods and natural remedies, or Santos Remedios, to prepare to have her feeling better in no time.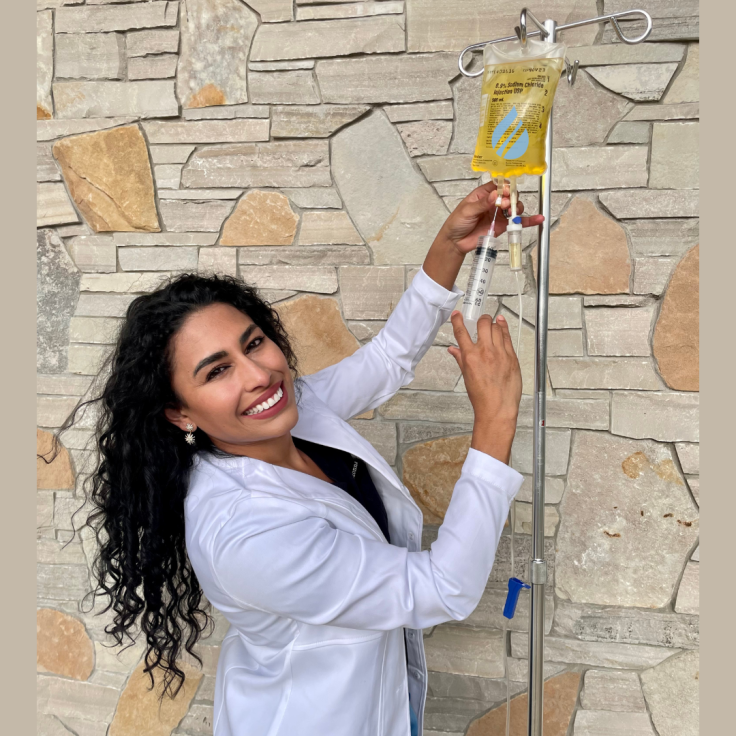 Fabian says that this foundation in health and nutrition at home was the catalyst for going to medical school and later opening up an internal medicine practice and medspa.
She believes so strongly in the power of nutrition that she wanted to create an environment for her patients that combined the best of traditional medicine with the best of natural complementary therapies to serve the St. Joseph, Michigan community.
"Growing up in a family that understood the benefits of good nutrition to promote the body's overall health and wellness has given me a unique approach to medicine. I want all my patients to see for themselves that medical quick fixes are not a long-term solution. A proactive approach to health through proper nutrition and quality medical care is the best way to get lasting results." - Dr. Madonna Fabian, MD
Dr. Fabian is a highly accomplished professional who has dedicated her career to the field of medicine. She works as a hospitalist at Ascension Borgess Lee, where she provides excellent care to her patients. She is also the Chief of Internal Medicine at the same hospital, which is a testament to her expertise and leadership skills.
In addition to her work as a hospitalist, Dr. Fabian runs her own clinic, which allows her to provide personalized care to her patients. She is deeply committed to ensuring that her patients receive the best possible treatment and care, and her clinic is a testament to her dedication to medicine.
Despite her busy schedule, Dr. Fabian prioritizes her own health and wellness. She uses Liquivida Drips to help her stay in shape and maintain her energy levels throughout her long workdays. She wakes up at 4:00 am every weekday for a morning workout before starting her day, which is a testament to her discipline and commitment to self-care.
An Integrative Approach to Healing
Dr. Fabian chose to partner with the wellness brand Liquivida because of their reputation as the #1 IV Vitamin Drip company in the United States. As a Liquivida user herself, Fabian says that there have been several occasions when Liquivida IV drips have come to her rescue.
As a busy doctor with a growing medical practice, Fabian doesn't always get the rest she needs or the proper nutrition (from her personal garden). She has seen firsthand how supplementing with Liquivida products has made a difference in her energy levels and overall health.
One of the reasons Dr. Fabian chose preventative medicine is because the primary focus of traditional healthcare is on symptoms rather than the source, and she wanted to offer a more layered approach to health.
As more people face the uncertainty of prescription drug costs and the lack of cabinet space to hold the overflowing number of medications being prescribed, they are looking for solutions that answer one question: "What do I need to do to feel better?"
Giving people direct access to treatments like Liquivida IV drips helps them to take a more proactive approach to their health.
"Everyone wants to live a vibrant and healthy life. At Liquivida, we believe that a proactive approach is the best way to achieve optimal health. We are on a mission to provide medical professionals with access to the best IV vitamin therapy products so that their patients can get healthy from the inside out and live their best lives." - Samael Tejada, CEO of Liquivida
IV Drips: The Faster Road to Recovery
With IV vitamin therapy, vital nutrients are administered through an IV drip, similar to the ones given in hospitals. They provide a more efficient way for the body to receive nutrients because they go directly into the bloodstream, where the body can access them quickly and use them where needed.
This is why many internal medicine practitioners like Dr. Fabian are turning to Liquivida. They want the best quality products for their patients, but they also want to align with a brand that focuses on the same philosophies as overall wellness—ones that begin with finding the source of any problems so that you can prescribe a course of action that's in the best interest of the body.
All IV Drips Aren't Created Equal
The quality of IV vitamin drips matters.
Healthcare providers that administer IV therapy need access to high-quality, sterile medications from compounding pharmacies. Providers who bypass these pharmacies often take shortcuts and opt for cheaper alternatives like non-sterile products that can be dangerous to clients.
Medical professionals continue to partner with Liquivida because they have direct access to their compounding pharmacy. This ensures that patients are receiving safe and sterile IV drips with the highest quality ingredients.
An IV Drip for Every Occasion
Dr. Fabian offers a variety of IV drips depending on the needs of her patients.
Before any treatment options are given, each patient receives a complete assessment to determine vitamin deficiencies, the best IV drip, and any other supplemental support the patient needs.
Dr. Fabian says that two popular IV drips at her practice are the Chelation Drip for detox and the Fountain of Youth Drip for rejuvenation, but she offers the full range of Liquivida IV vitamin therapy solutions, including:
Fountain of Youth IV Kit. Replenishes the body for healthier-looking skin, hair and nails.
Natural Defense IV Kit. An immune system booster that protects the body and speeds up recovery from airborne illnesses like colds.
Chelation Therapy IV Kit. Improves blood flow by removing heavy metals in the bloodstream.
Rise and Shine IV Kit. Reduces headaches and stops feelings of fatigue or exhaustion after a hangover.
The Executive IV Kit. Promotes mental clarity and focus during work hours and beyond.
Glutathione IV Kit. Empowers cells, slows down aging and produces a brighter, healthier skin glow.
Vitamin C IV Kit. Boosts immune systems and promotes healthy skin.