Pascal Soriot's Big Experiment: Reinventing AstraZeneca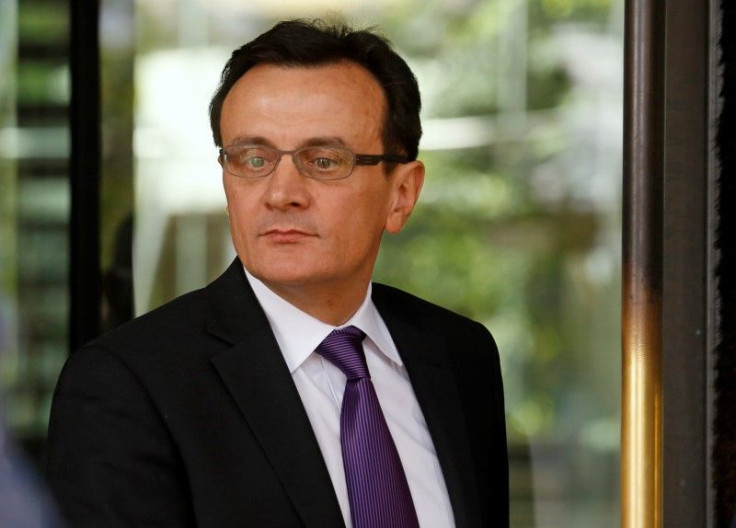 AstraZeneca Chief Executive Pascal Soriot is a big believer in science, and the biggest experiment of his career is the reinvention of the drugmaker.
The $500 million corporate headquarters and research hub emerging amid cranes on the southern edge of the university town of Cambridge symbolizes his aim to create a science-led company with uniquely close ties to academia.
For employees, these are uncomfortable times. Thousands of job have been cut globally at the company in the past three years, with more to come. Some staff are also reluctant to move to Cambridge, with its high house prices, from north-west England where the company has a strong presence dating from its time as part of the old ICI chemicals empire.
Soriot, however, relishes the chance to shake things up by setting up home near world-renowned university labs - where he says the firm is better placed to hire the "best of the best" - while shrinking its operations to focus on core areas like cancer, respiratory and cardiovascular disease.
"In the past, we've had too much stability," the CEO said in an interview with Reuters that gives some of the clearest indications yet of the scale of the cultural change he intends to push through at the company.
"We had people who never moved and turnover of 1 or 2 percent. That might sound good but it's actually not, because you don't have new ideas flowing through the place."
The stakes are high. Two years after spurning a $100 billion bid from Pfizer, AstraZeneca is going through the biggest "cliff" of patent expiries the drug industry has ever seen, wiping off more than half of its sales - or $17 billion - in 2011-2017.
That has forced Soriot to seek new routes to profit and his overhaul of the company is now entering a pivotal phase, with make-or-break trial results and drug approvals due over the next 12 months, coinciding with the move to Cambridge.
As with any experiment, the outcome of Soriot's reinvention is uncertain - and investors are divided.
Neil Woodford of Woodford Investment Management, the seventh largest AstraZeneca shareholder, is convinced the company will re-emerge as a successful player focused on specialty drugs like cancer treatments rather than mass-market medicines. He has added to his stake recently.
But Andy Smith, chief investment officer at fund manager Mann Bioinvest, says Soriot has yet to prove his plan will pay off. "The big question hanging over his tenure is how close he can get to showing actual value from the pipeline, rather than promised value," he said.
'IMPLODING'
No other pharmaceutical company has moved itself wholesale to an academic center. Soriot argues the move is already paying off for some 1,600 staff, nearly a quarter of its UK workforce, now in rented space around Cambridge who are liaising far more closely with academic researchers.
"It is fundamentally changing the way we operate," said the 56-year-old, who trained as a veterinarian in France. Most of the staff will move into the new building from late 2017.
Soriot said he had no choice but to overhaul AstraZeneca when he took over in October 2012, due to the patent "cliff".
"The company was imploding," he said bluntly.
His answer has been to invest in internal research and bolt-on acquisitions, including more than $7 billion of deals at the end of 2015, to rebuild the company's drug pipeline.
This includes cancer drugs that boost the immune system, which are the hottest area of drug research right now, although AstraZeneca also has high hopes for other approaches to fighting tumors.
That makes oncology the area with the greatest potential to drive future sales at AstraZeneca, as the company grapples with a wave of patent expiries on older products, such as its cholesterol fighter Crestor and stomach acid pill Nexium.
Investors are anxious for proof Soriot's prescription will work, since AstraZeneca shares are languishing 28 percent below the 55 pounds offered by Pfizer and earnings are expected to fall in 2016 and 2017.
AstraZeneca has also had to cope recently with some senior executive departures, including the loss on Tuesday of its North America head to Novartis.
At the height of the takeover battle, the company went public with a forecast that sales would rise by three-quarters to $45 billion by 2023 - a hostage to fortune, perhaps, but a target Soriot remains confident will be met.
"I might not be here to see if we achieve that in 2023 but people won't have to wait until then. If we succeed, the share price will reflect the value of the company much earlier than that," he said. "I think it is going to take another 12 months and then hopefully we can show people what they want to see."
STEPS FORWARD, BACK
So far, there have been some steps forward, like success with lung cancer drug Tagrisso and with good results for a new asthma drug.
But there have also been setbacks, including the loss of a fast-to-market opportunity for AstraZeneca's big immuno-oncology hope durvalumab.
The latter has increased the pressure to prove that a combination treatment mixing durvalumab and tremelimumab can help in lung cancer, giving AstraZeneca a foothold in a market currently dominated by Bristol-Myers Squibb.
"Pascal has played his hand well but now he's at the point where it gets harder," said one top executive at a rival company. "He's going down to the valley floor on earnings and we don't know how the clinical data will play out to get the business up the other side."
AstraZeneca has also used so-called externalization income from licensing out non-core products to underpin profits, leading to criticism over earnings quality from some analysts.
With R&D spending equivalent to 24 percent of sales, AstraZeneca's science budget exceeds the industry average. But Soriot aims to push selling, general and administrative expenses down to 30-32 percent from 35 percent.
The CEO says investors need patience to see through a turnaround story that, with luck, will mirror the recovery Bristol-Myers, now the star of the pharma sector.
"There will be a tipping point where people see a sufficient number of projects progressing positively and then they can see the future is bright."
(Editing by Pravin Char)
Published by Medicaldaily.com